Wabash College, NAWM Honor Retiring Faculty and Staff
by Howard Hewitt • May 11, 2007

Share:
Professor of English Don Herring's long career was celebrated Friday, along with two retiring staff members, at the 2007 Wabash Recognition Luncheon celebrated each year on graduation weekend.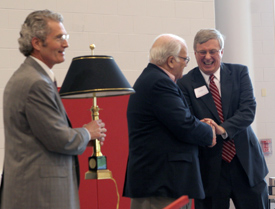 The National Association of Wabash Men and the College sponsor the luncheon to honor Wabash's faculty and staff. NAWM President Jay Fisher '66 presided and introduced speakers who honored each retiring staffer.
Herring came to Wabash in 1971, noted English Department colleague Tom Campbell, as a tenured department chair. Campbell read the citation he had read just hours prior to the College's faculty at its last meeting of the year. He noted one "unnamed source" several times in praising Herring as a professor who became known as "so smart and entertaining" along with "a wise ass big brother."
Of course that unnamed source was most likely President Patrick White, who had Herring at the University of Chicago when he was an undergraduate English major.
Campbell honored Herring's time as English Department Chair, Division Chair, and Dean of the College through much of the 1990s. Herring held the John P. Collett chair in Rhetoric from 1988 until retirement.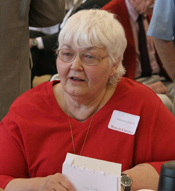 Professor of Political Science Melissa Butler read a citation honoring Judith Oswalt, Division III administrative assistant. She was presented a Wabash captain's chair upon her retirement.
Fisher noted the years of service of Marcia Caldwell as Printing and Mail Office Manager. President White was at Caldwell's tableside to present a Wabash clock.

Fisher also honored the retirement of Senior Writer Susan Cantrell from Public Affairs. Cantrell has been on leave with an illness, but has served as one of the College's principal writers for more than two decades.
The luncheon concluded with brief remarks from President White honoring each of the retirees and reminding them that their good work represents all Wabash faculty and staff.
"You shine out for us, worthy of our respect and admiration," White said. "But you also standout and embody the best of this College. We would thank you for your work at Wabash but we should thank you for your work as Wabash."
In Photos: At top, Herring being congratulated by President White. At right, Caldwell talks with family and friends. Lower left, Susan Cantrell.