Big Bash To Feature Art Auction
by Fred Trebleone • May 3, 2007

Share: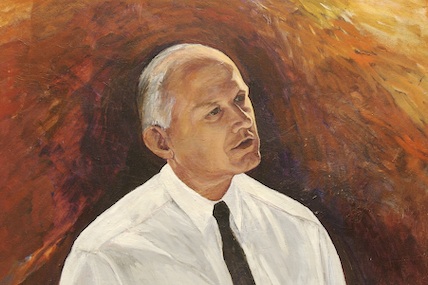 An added extra at the 2007 Big Bash will be an art auction of paintings depicting many prominent makers of Wabash history. The painting above, for example, features Dr. Willis Johnson, code name "god" by many of his students.
The paintings, which can be viewed in the albums referenced below, were all done by Peg Shearer. All proceeds from the auction will be used to support the Warren Wright Shearer Prize in Economics given annually to the student who, as determined by vote of the Economics Department faculty, has the best command of economic theory.
While this is a special treat for Big Bash attendees, those of you who won't be here for the Bash can still get a chance to bid. Simply review the photos in the albums and, if you'd like to bid, call (765-361-6063) or email (smithm@wabash.edu) Marilyn Smith with your bid before May 31, 2007 at 12:00 noon. Minimum bids start at $25.00.
Painting Album #1 Painting Album #2