Former All-American Named Cross Country Coach
by Jim Amidon • April 25, 2007

Share:
Wabash College Dean of Students Thomas E. Bambrey has announced that Roger Busch will become Wabash's head cross country coach beginning July 1.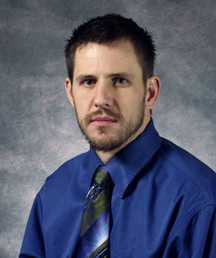 Busch, a 1996 Wabash graduate, was part of Wabash track and cross country teams that were dominant on the regional and national level when he was an undergraduate. Beginning this fall, he hopes to help return Wabash's distance running program to an elite level.
In addition to his responsibilities as the cross country coach, Busch will assist Coach Rob Johnson with indoor and outdoor track and field. Johnson has guided the cross country program since 1971.
"I am honored that Dean Bambrey, Athletic Director Vernon Mummert, Coach Johnson, and President (Pat) White have the confidence in me for this position," said Busch. "I'm very excited about getting started this fall, and will work tirelessly to win a national championship as a coach just as I worked aggressively to do so as an athlete."
Busch, who works in the Wabash Advancement Office as assistant director of the Annual Fund, stepped in as interim cross country coach in the fall of 2006 when Coach Johnson was sidelined with medical problems. He's worked with several all-conference cross country and track athletes at Wabash, including two-time track and field All-American Geoff Lambert, who was the Division III national runner-up in the indoor 800-meter run.
"We are very pleased that Roger Busch has agreed to be our head coach in cross country and assistant in track and field," said Dean Bambrey. "Roger was an All-American runner here and possesses excellent distance-running credentials. He has been working with our runners this year on a volunteer basis and has the respect of the team. We are sure he will continue the outstanding legacy established over many years by Rob Johnson, who will continue as head coach in track and field and assistant in cross country."
"Obviously I have a really tough act to follow in Coach Johnson," Busch said. "He was the biggest influence in my life when I was in college and he has been my mentor the last two years."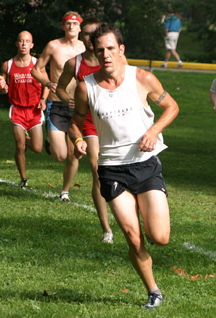 Busch was inducted in the Wabash College Athletics Hall of Fame in 2001. As an undergraduate at Wabash, he was an All-American in the 3,000-meter steeplechase and in cross country, placing fifth and sixth respectively during the 1995-96 school year. He was named the track and field MVP for both Wabash and the Indiana Collegiate Athletic Conference in 1995 and 1996, and was the Wabash cross country team's MVP for the 1995 season. He earned four letters each in track and cross country, and was an 11-time All-ICAC selection in track and cross country. He won conference championships in the steeplechase (4), 5,000-meter run (2), and 800-meter run (2). He was also a leader of Wabash cross country teams that finished third and fourth at the national championships.
"I am elated that Roger Busch will be our cross country coach and assistant track coach next year," said Director of Athletics Vernon Mummert. "Roger was one of Wabash's greatest All-American distance runners and will undoubtedly get our runners' immediate attention and respect when he goes out and literally shows them what it takes to be a great distance runner. Middle and long distance runners will now begin to take a much more serious look at our Wabash cross country and track program due to Roger's influence in their training."
Busch has raced professionally since 2002, and is a three-time national champion in USATF Masters competitions. He has twice qualified for the Ironman Triathlon World Championships; won two Maui Half Marathon Championships; and finished second and fourth at the Maui Marathon in 2002 and 2003, respectively. He was a USAT Triathlon All-American four times from 2002 through 2005.
Busch's goals for Wabash are simple. "I would like to put us back on the map in cross country and recruit and develop middle-distance and distance athletes to take to Nationals every year."
Busch will continue his work in the Advancement Office through the remainder of the fiscal year.