Immersion Learning Program Receives $2 Million Endowment
by Jim Amidon • April 6, 2007

Share: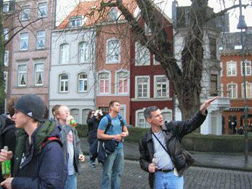 Wabash College will use a $2 million matching grant from Lilly Endowment Inc. to create a wide range of off-campus learning opportunities for students attending the private liberal arts college for men.
Two years ago the Endowment — through its Initiative to Strengthen Philanthropy for Indiana Higher Education Institutions — offered Wabash the opportunity to receive up to $2.5 million in matching money if the College generated $2 million in donor gifts. Wabash exceeded its goal through gifts to the 2006 Annual Fund.
"Lilly Endowment's generous matching grant has already helped us expand our donor base and gave a new administration unique financial flexibility," said Wabash President Patrick E. White, who is in his first year as the College's 15th president.
The Endowment's matching funds will be split in two ways. The College will use $2 million to endow Extending the Liberal Arts Classroom programs and $500,000 for strategic planning and campus master planning.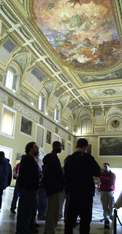 "Both these projects in different ways will enhance the learning experience for students and increase the engagement of faculty, staff, and students in the life of Wabash," said White. "Lilly Endowment's initiative was a significant factor in motivating more alumni to invest in Wabash College, casting a solid foundation on which a future strategic plan and resulting capital campaign may stand."
For almost a decade, Wabash has offered its students cross-cultural immersion learning trips across the United States and around the world. These trips help students and their professors bring to life material studied in the classroom. For example, classics students studying Roman art and architecture will travel to Italy at the end of the spring semester for intense, on-site study of the ancient culture. Most trips, though, take place within the academic calendar over Thanksgiving and Spring Break.
The matching funds from the Endowment will permanently endow further Extending the Liberal Arts Classroom initiatives, and will generate at least $100,000 per year for student and faculty collaborative work. Students are not assessed additional fees for Wabash's immersion learning program.
"The ideal Extending the Liberal Arts Classroom project inspires new ideas and opens students' minds to additional research and travel. Our long-term goal for this initiative is to provide a meaningful experience in another culture for all students. A lack of permanent resources has been a primary obstacle to achieving this goal. The matching grant endowment will support more programs for more students," added White.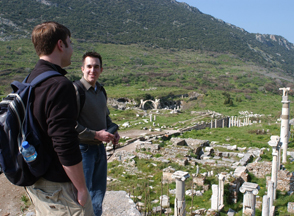 White and his administration are in the initial stages of comprehensive strategic planning, campus master planning, and laying the ground work for a capital campaign. Funds from the Endowment's match will be used to engage a wide range of constituents in the planning process.
"The result of our planning process will be a road map for Wabash's leadership of the liberal arts and men's education, a map that will enable Wabash to raise its horizons and expand its influence in American higher education," said White.
To read blog accounts of this year's Immersion Learning trips, click here.