Glee Club Tour Off to Flying Start
by Tom Runge • March 5, 2007

Share: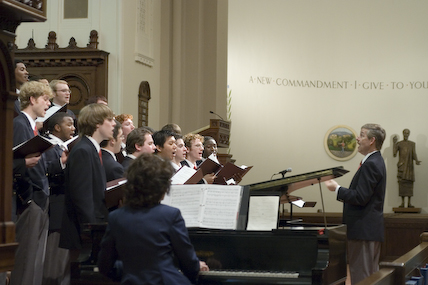 The Wabash Glee Club, directed by Dr. Richard Bowen and accompanied by Cheryl Everett, began their Spring Break 2007 tour on Saturday, March 3, 2007 with a visit to the Air Force Museum at Wright Patterson Air Force Base, Ohio.
Bob Wild '59, Dayton area alumnus and former Glee Clubber, was on hand to great the lads and welcome them to the area. The guys had a great time touring the Museum – it's something everyone should stop by and see. For photos of their visit, click here.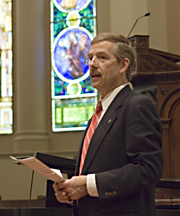 The Glee Club's first performance was at the Broad Street Presbyterian Church in downtown Columbus, Ohio on March 4, 2007. A little known fact – Dr. Harry Cotton of Wabash faculty fame actually served as the minister at the Broad Street Church in the 1920s! The concert was a hit – our guys did a great job. For photos, click here.
The Glee Club then joined local area alumni for dinner at the restaurant Buca Di Beppo in downtown Columbus. Needless to say, no one left there hungry. A couple of impromptu number entertained the entire restaurant, including Alma Mater. They also surprised Richard Bowen who had tried unsuccessfully to keep his birthday that day a secret.
Top photo: The Glee Club in action.
Photo top right: Dr. Richard Bowen introduces another number at the Broad Street Church.