Flowers '06 Visits Campus for Teach For America
by Howard W. Hewitt • January 29, 2007

Share:
Teaching economically-disadvantaged children has had a profound impact on Wabash men. Jeremy Robinson '04, a 2006 Teach for America participant, is now studying at Oxford as a Rhodes Scholar. Tim Flowers '04 visited campus Jan. 29 to recruit and tell students about his on-going TFA experience in Memphis, Tenn.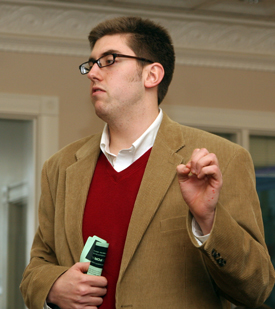 Flowers, a political science and French major, is teaching middle school students at a charter school in Memphis. He told the nearly 40 students and faculty members gathered for lunch about the challenges of his classroom.
He has 70 students in his classes, 62 of which come from a single parent home. He detailed the record of failure for young people coming from such environment and the challenges to "end the education inequity in this country."
He told the students it doesn't matter what they might be major in, that Teach for America targets Wabash graduates because they have performed well in the program and kept their 2-year commitment.
"You have to look deep within yourself and realize its (TFA) a place you can make an impact," Flowers said.
Last year Teach for America had 19,000 applicants and took 3,500 of those into the program. Flowers is the 8th Wabash man to participate in the program.
Flowers called the experience invaluable character development. "The lessons I've learned are lessons you can't put a value on," he said.
Flowers, from Arcadia, Ind., won a Truman Scholarship while at Wabash. He was editor of the Bachelor and active in his fraternity.