Wabash College Passes All-Time Record for Applications
by Howard W. Hewitt • February 23, 2007

Share:
Wabash College has received 1,400 applications for the class of 2011, not just an all-time high but nearly twice as many as a decade ago.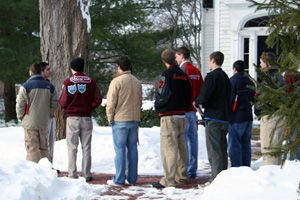 Admissions received its 1,400th application Friday morning. As a matter of fact, applications have come in at a record pace all year. Admissions passed the 1,000 mark just before Christmas, the earliest ever. In 2000, the admissions department passed 1,000 applications for the first time.
"That was seen as a significant breakthrough as the College leadership at the time thought that was the pool we needed to recruit a strong class at a sustainable level of financial aid," Dean of Admissions Steve Klein said.
In the 1990s the College often averaged about 800 applications. In 1997, applications totaled 735. Three years ago applications reached 1392, with last year's total at 1361.
The admissions staff spends much of its time reviewing applicants they believe would make a good Wabash man. The class of 2011 won't be much different in size than in recent years with about 250 freshmen.
Klein noted there have been major and minor changes in the recruitment effort.
"We've implemented an aggressive and comprehensive summer recruiting program to contact rising seniors before their school year starts," he said. "This includes mail, phone contact, and visits."
He also noted the strength of the alumni volunteer program and friends of the College aiding recruitment. Klein said the department has worked to enhance relationships with the athletic department to support collaboration in prospect management.