Alumni Cheer Wabash to Victory — Across the Country!
• December 4, 2006

Share: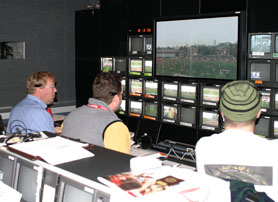 The 113th Monon Bell Classic is now in the record books with Wabash defeating DePauw 23-20 before a stadium-record crowd reported to be in excess of 11,600. Close to 500 other alumni, spouses, and friends watched the HDNet national broadcast of the game in over 50 sites around the country.
This year's game marked the second time HDNet has televised the game in high definition. Reports from alumni telecast parties ranged from "spectacular" and "amazing" to "you could really tell how bad the field conditions were."
Heavy rains fell the evening before the game and eventually tapered off about four hours before kickoff. Sliding temperatures and a gusty breeze made the field particularly sloppy. The weather certainly didn't dampen the spirits of the more than 2,000 Wabash tailgaters, some of whom began celebrating the victory 24 hours before kickoff!
Click here to read about Wabash's victory, which gives the Little Giants a 53-51 edge in the all-time series.
Click here to see pictures from a few of the telecast parties around the country.
Click here to order your copy of the commemorative Monon Bell DVD, which includes the full game, 19 Monon Memories, the Wabash halftime welcome from President White, and a photo gallery.
The Alumni and Parent Relations Office wishes to thank all of the volunteers around the country who coordinated the telecast parties — Some Little Giants!