Family Day This Weekend at Wabash
by Karen Handley • October 26, 2006

Share:
Wabash College will honor the families of Wabash students on Saturday, October 28, when it celebrates Family Day.
The agenda for the day includes:
9 a.m.-12 noon: Open reception for parents and families of Wabash students in International Hall, Detchon Center. Food and refreshments will be provided.
9 a.m.: Campus Tours. Tours will be led by the Sons of Wabash and will depart from the Detchon Center.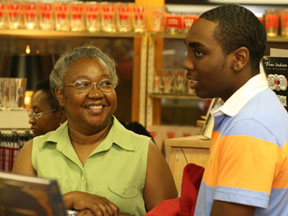 10-10:45 a.m.: Information session on the Off-Campus Studies Program by David Clapp in Hays Hall, room 104. Find out how many Wabash students study off-campus, what the rules are for who can go, where they go, and hear from the students themselves about their experiences and get the opportunity to ask questions.
11:00 a.m.: Soccer Game —Wabash vs. Oberlin at Mud Hollow Field. Free and open to the public.
11-11:45 a.m.: Information session — Career Services Learn about Internships, Choosing a Career Path, and Pre-Health Advising. The staff of the Schroeder Center for Career Development will discuss services offered and ways to help students explore and choose a career path. Discussions will include finding internships and summer internship programs run through the College. Our Pre-Health Advisor will talk about a variety of Pre-Health fields and how to successfully prepare for the future.
1 p.m.: Football Game — Wabash Little Giants vs. Wooster in Byron P. Hollett Little Giant Stadium. Tickets are $5 for adults, $3 for students and can be purchased at the gate.
8 p.m.: Family Day Concert featuring the music department at Wabash College. Salter Hall, Fine Arts Center. Free and open to the public.
Please join Wabash as we celebrate the families of Wabash students. All events are open to the public.