Ecuadorian Group to Present Don Quijote de la Mancha
by Karen Handley • October 12, 2006

Share: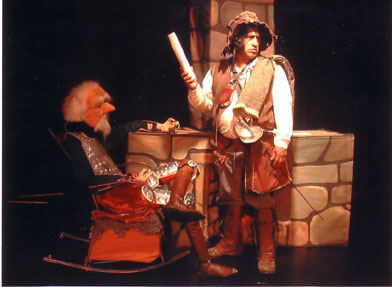 The Wabash College Visiting Artists Series is pleased to announce that La Espada de Madera, a critically-acclaimed Ecuadorian theatrical group, will be in-residence on the Wabash campus October 17-21.
During its residency it will present three public presentations. On Wednesday, October 18 and Thursday, October 19, the actors will give a presentation of Don Quijote de la Mancha in Ball Theater in the Fine Arts Center. The performance starts at 8 p.m. each evening. They will also present a special children's performance at 1 p.m., Friday, October 20 in Ball Theater. All presentations are free, but tickets are required only for the Wednesday and Thursday performance.
Founded in 1989, La Espada de Madera (The Wooden Sword) is a prize-winning troupe of puppeteers and performers from Ecuador that has entertained adults and children at festivals in Latin America, Europe, and the United States.
For tickets contact the Fine Arts Center Box Office by email at boxoffice@wabash.edu or phone: 765-361-6411. Box Office hours are Monday through Friday, 8:30 a.m. to 12 noon and 1:30 to 4 p.m. The box office will open 90 minutes before curtain time for Visiting Artists events. Tickets not claimed at the Box Office 10 minutes prior to curtain will be released to the general public.