Hootie's Lead Guitarist Talks with Bachelor About Band
by Rob Fenoglio '09 • October 5, 2006

Share:
It's widely believed that if an artist wins the Best New Artist Award at the Grammys, they will be cursed and disappear into oblivion a year or two later.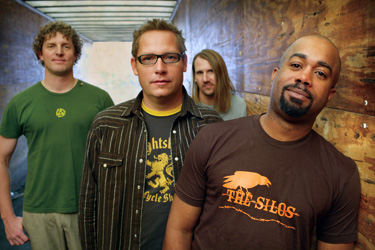 It was true for many of the winners. Remember Paula Cole (1998), Shelby Lynne (2001), or Mark Cohn (1992)? But it doesn't ring true for all winners. For example, Mariah Carey won in 1991; Sheryl Crow in 1995; and Crosby, Stills and Nash in 1970. All of those past winners are still making music today and selling millions of albums.
Hootie & the Blowfish, on the other hand, have managed to stay somewhere in between, in a sort of limbo. They won the Best New Artist award in 1996 and had huge success with their first studio effort, Cracked Rear View, released in 1994. It was an instant hit, selling over 16 million copies in the United States alone and becoming the best-selling album of that year.
The band has not disappeared into complete obscurity. They continue to tour for their sixth studio album, Looking for Lucky, and do gigs all around the country. They are no one-hit-wonder, though. After the massive success of the four singles from Cracked Rear View ("Hold Her Hand," "Let Her Cry," "I Only Wanna Be With You," and "Time"), they continued their success in 1996 with their second album, Fairweather Johnson, which went 4-times platinum (4 million copies). It was a far cry from the 16-times platinum certified Cracked Rear View, but 4 million copies was by no means a failure.
The band then released Musical Chairs in 1998, which went platinum. Two other albums were released; one in 2000 (Scattered, Smothered, and Covered) and another in 2003 (Hootie & the Blowfish). Although neither could reach the success of the first three studio albums, they produced modest singles. All of those recordings reaching the top 25 in the Adult Top 40 and the Adult Top 40 Contemporary Billboard Charts.
Even though Hootie & the Blowfish have never been able to reach the same height of popularity that they achieved in 1995, they still have many loyal fans and continue to make music.
Bachelor: Are you guys on tour right now supporting your newest album, Looking for Lucky, or has that already wrapped up?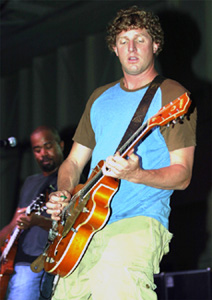 Mark Bryan (lead guitarist): We are still touring. Actually, we just put out our first live DVD with a live CD called "Live in Charleston." It's our first [live CD] in ten years.
Bachelor: During this tour, what is your performance list? Is it mainly newer stuff or is it focused more on Cracked Rear View and Fairweather Johnson material?
Bryan: It's a good combo. We pick songs that represent each album. We have fans from different age groups so we try to mix it up with recordings from all of our albums. We even play the song "Hey Hey What Can I Do" that we did on a tribute album to Led Zeppelin.
Bachelor: Since Cracked Rear View, how has Hootie & the Blowfish evolved as a band?
Bryan: Everyone has gotten better at their instruments and writing craft. As you grow, you mature and friendships grow. We have kids, so we have gotten to the point where there is less partying and more family. A lot is still the same, though. We still have the drive to do this.
Bachelor: Where does the band draw inspiration from?
Bryan: Our inspiration comes from a few bands, but our main ones are Pete Townshend of The Who and Bruce Springsteen; both for their songwriting. Our two biggest inspirations are R.E.M., from the early days. They are the reason we became a band. We aspire to be like U2. They are the greatest rock band on earth. Their sound is unbelievable. They are what every rock band should aspire to be.
Bachelor: Your music has sometimes been compared to the likes of Train, but who do you think your music is most comparable to?
Bryan: I think our music is just Hootie & the Blowfish. We have many elements. We have such luxury with a singer like Darius because we can do any style and he can sing over it. He has an amazing voice. We did a song for Frank Sinatra on his 80th birthday. [Darius] sings all kinds of music and we sound like Hootie at the end of the day, particularly because of his voice.
Bachelor: Most people don't know, but you guys have still been releasing CDs and have had some success on the Adult Top 40 Chart and the Adult Contemporary Chart. Radio is now a monopoly because the same artists are getting played over and over again. Do you think that has contributed to lesser exposure for Hootie & the Blowfish?
Bryan: We are dinosaurs with radio. If we don't get played we go somewhere else. It's all about touring right now.
Bachelor: You guys are big golf nuts. Have you been able to play around with any pros, and what is one player that you wish you could have a game with?
Bryan: I really like Fred Couples. I haven't played with Jack Nicklaus, yet. I am such a big fan. I never got the chance to meet him and would love to. We love all sports. We even have a fantasy football team. It's four band members and six crew guys. I have Peyton Manning [laughs].
Bachelor: Everyone always brings up "Only Wanna Be With You," mainly because it was your biggest hit as a band, but why do you think it and the album, Cracked Rear View, were so massively successful? And after that initial success, did the band have feelings of "how do we top ourselves?"
Bryan: We had no idea how we had that success. For that CD we had no formula going in. It was just a phenomenon. That album happened to hit at the right time. From the get-go we knew we couldn't top ourselves … only 20 albums sold more than 16 million copies. We didn't fool ourselves. We just strive for longevity.
In photos: Above right, Hootie and the Blowfish - far left is guitarist Bryan at right is lead singer Darius Rucker. Lower left, Bryan on stage.