Wabash Defense Smothers Rummell; Little Giants Roll 48-15
by Jim Amidon • September 30, 2006

Share: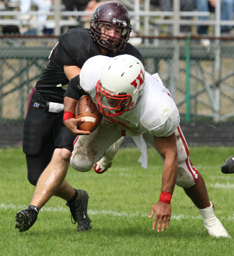 In a game filled with hype surrounding the top two quarterbacks in the North Coast Athletic Conference, it was the Wabash defense and a punishing running game that stole the show in a 48-15 Little Giant victory at Earlham.
Earlham's Justin Rummell entered the game leading the conference in passing with 1,145 yards, 13 touchdown passes, and just one interception. Thomas Bell intercepted the first pass Rummell threw Saturday, beginning what would be a very long day for the talented senior quarterback.
Wabash held Rummell 200 yards below his season passing average, intercepted him three times, and sacked him twice. Rummell wouldn't get his team on the scoreboard until the 8:48 mark of the third quarter; by then the Little Giants were ahead 34-0.
Click here to see high resolution photos from the game.
"The story of the game was the way our defense played against what is easily one of the most potent offenses they will face," said Wabash Coach Chris Creighton. "Earlham is as good as anybody we'll see this season. Coach Neal Neathery had a great game plan and our players had a lot of fun executing it today."
It was Bell's interception at the Earlham 31 yard-line that set the tone for the game. The Little Giants needed just seven plays to take a 7-0 lead with fullback Shane Keffer bulldozing his way into the endzone from three yards out.
Rummell's next two drives were more of the same — covered receivers, under thrown passes, blitzing linebackers, three plays, and punts.
With Earlham backed up on its three yard-line, Wabash's punt return squad tried to block Ben Seibert's punt. The Little Giants didn't block it, but forced a short 24-yarder into the wind. Four plays and 27 yards later, Wabash was up 14-0 when Dustin Huff scored from six yards out on an option keeper.
Huff played a smart game, not forcing passes, taking what the Quakers' defense allowed, and utilizing a productive ground game that had Earlham backing up all day. Though Huff was averaging 372 yards per game through the air, at Earlham he was more workman like, hitting 10-of-14 passes for 150 yards and three touchdowns.
Coach Creighton said prior to the game the Little Giants would try to chew the clock, keeping Rummell and his talented receivers on the sideline. They did exactly that, holding the ball for almost 28 minutes through the first three quarters.
Armed with a 14-0 lead, Huff took Wabash on an eight-play, 53-yard drive that consumed four minutes. Faced with fourth down at the Earlham 25 yard-line, Huff called time out to set the play. Billy King (pictured above) had run the ball four straight times, but on fourth down Huff dropped back to pass and found Mike Russell on the sideline. The two connected and Russell broke three tackles before diving into the endzone for a 21-0 Wabash lead.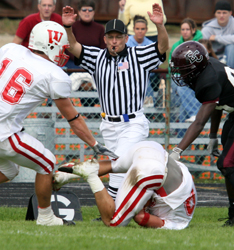 Down big, but with the wind at his back, Rummell led Earlham on its only notable drive of the first half. He completed two short passes, ran for a first down, then found Manny Myers out of the backfield for a 31 yard gain. After a Wabash time out, Rummell forced his next throw, which Wabash's Chad Peterman (pictured left) intercepted near the Wabash goal line.
After an exchange of punts, Wabash blew the game wide open with a nine-play, 76-yard drive that ended with Huff hitting Keffer on a six-yard touchdown strike for a 28-0 Wabash lead at the half.
If there was any life left in the Quakers coming out of the locker room, Geoff Walker knocked it out of them with a 35-yard kickoff return to start the second half. Four plays later, Huff hooked up with Bart Banach from 11 yards out to make it 34-0 Little Giants.
King led a rushing attack that posted four players with 25 or more yards. King led the way with 90 yards on 15 carries, including a nifty 16-yard, tackle-breaking touchdown run. Sophomore Bobby Kimp saw the most extensive action of his career, rushing 10 times for 78 yards and a four-yard touchdown late in the third quarter that put Wabash on top 48-6. Wabash rushed for 253 yards in the contest, and out-gained the hosts 410-258.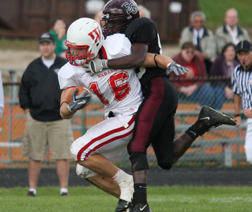 Linebacker Matt Kraft continued his excellent play of late with a team-high five tackles and a fumble recovery that led to a Wabash touchdown. Adi Pynenberg and T.J. Schaffer each had sacks for Wabash, while quarterback-turned safety Rich Lehman (right) joined Bell and Peterman with interceptions.

It should be noted, too, that punter Chad Finley had a solid day. He punted just three times for a 40-yard average, but he had a 60-yarder downed at the Earlham three yard-line and another tapped dead at the Quaker four yard-line. Earlham's averaging starting field position was its own 28; Wabash had an average starting field position at its 44 yard-line.

The Little Giants, now 3-1 overall and 2-0 in the NCAC, return home next Saturday for a Homecoming match up with Allegheny College. Kickoff is set for 2:00 p.m.




Results: Wabash 48, Earlham 15 Game Stats