Nationally syndicated editorial cartoonist Daryl Cagle wrapped up his visit to Wabash College with a public lecture Thursday night, during which he showcased the various forms of cartooning around the world. He began his talk by introducing the audience to what he calls "Yahtzee" cartoons — cartoons like the weeping Statue of Liberty sketches done immediately after the attacks on the World Trade Center.
"That was embarrassing for cartoonists, a real low point," he said. "I call them Yahtzee cartoons when five or more cartoonists are all drawing the same thing. It's just embarrassing."
The cartoonist talked about his favorite cartoons: "Those with no words, because they have international appeal; there's something elegant about a cartoon without words."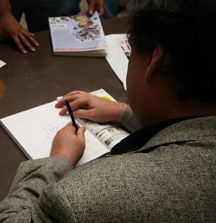 He lamented the international outcry over the Mohammad cartoons that appeared in Denmark, which ultimately caused the deaths of over 400 people. He showed the audience slides of the cartoons that sparked the controversy, and discussed how many were simple illustrations and not political satire at all.
Some of his own cartoons, which he calls his favorites, were sketched while he was the editorial cartoonist for the Honolulu Advertiser. His cartoons detailed the 2001 tragedy when a U.S. Navy submarine on a "joy ride" capsized a Japanese research vessel. Only one of the many dozen cartoons he sketched on the subject was published. "Sooner or later, I make just about everybody mad," he said.
"I never get invited to talk at colleges and universities," he said of his unique trip to Wabash via the Lecture Series. "I really don't get out much, and when I am asked to speak, it's usually to talk about the business end of things I only ever speak to other cartoonists."
Today he does as much business as cartooning. His syndicate, Cagle Cartoons, manages the work of nearly 100 editorial cartoonists. More than 850 newspapers feature Cagle Cartoons, making it the largest such syndicate in the world.
"Cartoonists are rotten businessmen," he said. "What we've done with the syndicate is to free them of the business aspect so that they can focus on cartooning."
While on campus as a guest of the Lecture Series, Cagle met with students from Professor David Hadley's freshman tutorial studying the subject. He also had a meeting with Professor Stephen Morillo, who has been cartooning for more than 20 years and whose strips have appeared in the Bachelor for over a decade.
Cagle also met with Bachelor cartoonists Dick Page '07 and Patrick Millikan '07, and gave the students useful tips to improve their focus, wit, and power.
"He had a lot to say on composition of a cartoon and ways to grab someone's attention visually," said Page. "He suggested more variation in blacks and whites as well as in panel sizes and structure, and in framing the image in the panel. I've never been completely satisfied with my 'talking head' comics, so it was good to have some ideas of how to mix it up.
"I plan to put some of his suggestions into practice next week."
During a lunch with Bachelor writers, Cagle did as much questioning as answering, wondering what it was like to attend Wabash.
Read more about Daryl Cagle and his syndicate, Cagle Cartoons, by clicking here and for more information on his msnbc.com site, click here.
In photos: On homepage, Cagles signs a book and draws a character for John Torrez '10.