Wabash Picked to Repeat in NCAC Preseason Football Polls
by Brent Harris • August 7, 2006

Share:
Wabash, the defending North Coast Athletic Conference football champion, has been selected by the media and the coaches to repeat in the 2006 title chase.
The Little Giants dominated both polls, garnering a large majority of the votes cast.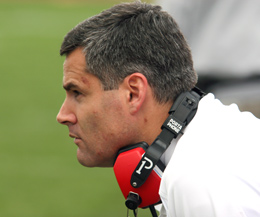 "My stance on polls hasn't changed now nor will it ever," Wabash coach Chris Creighton said. "I think polls are meaningless We will not be deceived by pre-season rankings.
"Over the last 3-to-4 years the top 4 or 5 teams in this league have proven they can have special seasons and win the conference title. I expect to see competitive football from the first week of the season to the last as we always do in the NCAC."
Wabash was picked to finish in the top spot in the coaches' poll after receiving eight of the possible ten first place votes from the NCAC coaches. Wooster, picked third, garnered the other two votes. Wabash received 98 total points. Ohio Wesleyan was second (78), followed by Wooster (77) and Wittenberg (76). Allegheny (62), Kenyon (47), Denison (45), Oberlin (27), Earlham (26), and Hiram (14) rounded out the voting.
The media was nearly unanimous awarding Wabash 24 of the 28 first-place votes and 264 points. Wooster was second with one first-place vote and 213 points. Ohio Wesleyan was third (108) followed by Wittenberg (193), Kenyon (173), Allegheny (145), Denison (108), Oberlin (77), Earlham (60), Hiram (44). OWU, Kenyon, and Allegheny all picked up a single first-place ballot.
The Little Giants, 11-1 in 2005, will attempt to become the first team to win back-to-back conference titles since Wittenberg won four consecutive championships from 1998-2001.
Wabash opens the 2006 season September 9 at Franklin College. The Little Giants will begin conference play hosting Ohio Wesleyan Sept. 23. For the full schedule, click here.