Second Wabash Alumnus Killed in Afghanistan
by Jim Amidon • July 6, 2006

Share: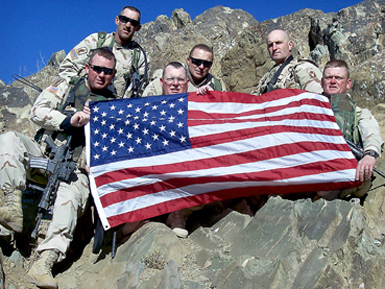 Wabash College mourns the loss of a second alumnus killed in the line of duty in Afghanistan. Indiana National Guardsman Jeff McLochlin '83 died when he was shot by anti-government rebels near the border of Pakistan. Army Green Beret Jeremy Wright '96 was killed by a roadside bomb near his post in Kabul in January 2005.
McLochlin was an independent and third team all-America football player while at Wabash. He started at linebacker in his freshman season in 1979.
In 1982, when Wabash posted a 10-0 record, McLochlin was named the outstanding defensive back and set the school record with 142 tackles. His 21 tackles in Wabash's historic win over Dayton also set a school record in 1982, a year in which his tackles and interceptions (6) landed him a spot on the CoSIDA All-America Third Team. Wabash's record with McLochlin as a starter was 26-1-1.
His major area of study was psychology. He is survived by his wife, Nicolle, and three children, Darby, Connor, and Kennedy. Funeral arrangements are pending.
A city police officer in Plymouth, Indiana, McLochlin was a 1st Sgt. in the Indiana National Guard and was previously deployed on a NATO peace keeping mission in Bosnia. He had been on leave from the Plymouth Police Department since September 2005 when he was deployed to Afghanistan. He was the son of former Fulton County Sheriff Richard McLochlin and had previously served as a United States Army Ranger.
McLochlin had been training Afghans in police tactics in a small village near the border of Pakistan. He was shot while on routine patrol and later died while being air-lifted for medical attention. Flags in Plymouth have been lowered to honor McLochlin and a second Plymouth police officer who died earlier in the week.
The Associated Press is reporting that McLochlin is the third Indiana Guardsman to die in Afghanistan in the last week.
Tom Runge, director of alumni and parent relations at Wabash, received a photo of McLochlin and his buddies at the top of a 10,000 foot peak back in November. McLochlin is pictured second from the right.