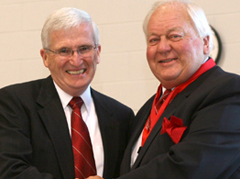 Thirty-eight members of the Wabash Class of 1956 received their 50th reunion medallions from President Andy Ford at Friday night's Big Bash Banquet, attended by more than 400 Wabash men, their spouses, and friends of the College.
Click here for pictures from the big night.
Led by Class Agent Paul Hawksworth, each reunioning member of the Class of 1956 was introduced, strode to the stage, and received a medallion from the president, reminiscent of receiving a graduation hood 50 years ago. Liz Gregor, widow of Wes Gregor, and Mary Kough, widow of Bob Kough, also received medallions at the festive reception and dinner.
The Friday night Big Bash Banquet is the first major all-alumni event of Big Bash Weekend. Alumni from the classes of 1941 through 2006 were on hand to celebrate. It's unclear exactly which alumnus will get the honorary "long distance award," though Dick Sylvester '56 has an early lead over Wally Shaw '56. Shaw came from Scotland to attend his 50th reunion, but Sylvester traveled all the way from Australia to be on hand.
One of the highlights of the Big Bash Banquet was the presentation of the 50th Reunion Gift to President Ford. Campaign chair Bob Ehrich thanked all of the living unit volunteers for their excellent help. He said he originally thought his class of about 98 men might raise a little over $10,000, but was surprised when he heard the goal set for the class was $1.5 million. Ehrich and Hawksworth smiled ear-to-ear when they presented a giant check for $2.51 million to President Andy Ford, who moments earlier had been presented a 50th reunion medallion from Hawksworth. Interestingly, Ford celebrates his 40th reunion from Seton Hall University this year.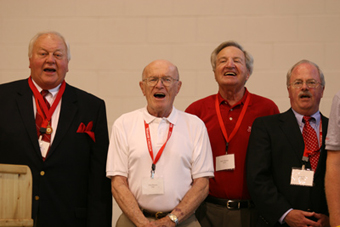 The evening came to a rousing conclusion when Alumni Director Tom Runge '71, celebrating his 35th reunion, invited Class Agents from 1941 through 2001 to join him on the stage to lead the crowd in the singing of "Old Wabash."
The Banquet capped a full day of campus tours, a golf outing, and several colloquium sessions, including one led by Tom Kometani. A native of Washington state and member of the Class of 1956, Kometani gave an emotional presentation of how his family, American citizens of Japanese descent, were interred in camps for a year following the bombing of Pearl Harbor.
Saturday's activities are highlighted by the Fun Run (click for photos), more colloquia sessions, the Third Annual Alumni Chapel Sing competition, and individual reunion receptions and dinners.
In the photographs: Home page -- Bob Ehrich and Paul Hawksworth present a 50th Reunion Gift for $2.51 million to President Andy Ford.
Top: Paul Hawksworth receives his 50th reunion medallion from president Ford.
Bottom: Hawksworth '56, Dick Ristine '41, Bob Johnson '54, and Squier Neal '66 were among two dozen Class Agents leading "Old Wabash" at the banquet.