Journal Review: Previews Big Bash
by Wade Coggeshall • June 2, 2006

Share:
The 2005-06 school year may be over, but the Wabash College campus is hardly dormant. Starting today the liberal arts institution hosts its Big Bash, where alumni from 10 Wabash classes ending in 6 and 1 will come together for a three-day reunion.
This is the third year for the Big Bash, and Tom Runge, the college's director of alumni and parent relations and himself a Class of 1971 member, expects attendance at this one to be about 50 percent more than the previous two. In fact this year's reunion will be the biggest at Wabash since 1992.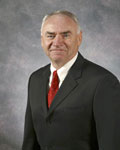 "I think there's a number of factors (on Big Bash's growing popularity)," Runge said. "When the word gets out that it's a fun weekend, that word spreads. Having a dedicated weekend for nothing but reunions, we give our alums and their families a little bit of time to enjoy themselves and catch up with their classmates."
In the past Wabash College conducted reunions for younger classes the same weekend as homecoming in the fall. Older classes would get together in the spring during commencement weekend. Wabash decided to move reunions to their own weekend, at a time when nothing else was going on in the area that would make lodging a problem, because homecoming and commencement aren't exactly conducive to reunions. Plus scheduling multiple activities in the same weekend made coordination difficult for college officials.
"Our surveys show us the Big Bash has really caught on," Runge said.
Many aspects of the Big Bash remain the same year to year. There's always a golf outing that Friday at the Crawfordsville Country Club and an awards brunch at 11 a.m. Sunday to close the festivities. Perhaps the highlight of the weekend is the Alumni Chapel Sing, in which classes compete on the Chapel steps to hear who can sing "Old Wabash" the best. At the end every alumnus joins together for one massive sing-along of the college's fight song. Runge calls it "one of the biggest rites of passage that any Wabash man goes through."
Sprinkled throughout the Big Bash are colloquiums featuring alumni talking about life-changing events or sharing expertise from their careers. Among this year's highlights are 1956 graduate Tom Kometani relating his experience in three U.S. Japanese internment camps during World War II and 1966 graduate David Kendall, who is former President Bill Clinton's personal attorney, discussing his years inside the Beltway. Though the weekend is geared toward Wabash alumni and their families, the colloquiums are open to the public.
Technically the Big Bash is still in its test phase. After five years Wabash will have rotated through every reunion class in the past 50 years. So far results are positive.
"My take on it now is, this is something (our alumni) like," Runge said. "They're our customers. If they like it and come back, we'll keep going with it. We think it's a concept that's been a hit."

Coggeshall is a reporter for the Crawfordsville Journal Review.