Little Giant Football Team to Serve, Play Game in Panama
by Matt Wilson • May 15, 2006

Share:
Wabash College football players will take off their pads and helmets for a week of sightseeing and projects as 39 Little Giant football players leave today for a service trip to Panama City.
The players, including most of Wabash's starting defense and two of next year's offensive captains, four coaches, History Professor Rick Warner, and Advancement staff member Steve Hoffman will be going on the nine-day trip. Once every three years, the National Collegiate Athletic Association allows teams to make overseas trips. Wabash's last trip was to Austria and Germany. After days of helping locals on farms and visiting local schools, this year's trip will include Wabash football players taking on a Panamanian American All-Star Football team at Balboa Stadium. The players will be contributing to a daily blog about their experience, click here to read their daily activities.
"This is going to give us some time to spend together and give us an experience that I think will be very powerful," Wabash coach Chris Creighton said. "I don't know what is in store for us, but what I do know is that we are spoiled here living in America. And by going on this trip, I hope the players will interact with the locals as much as possible because we don't want these just to be sight-seeing trips."
The first days of this year's trip will be spent working in a remote village in the Panama area where they will help locals farm and provide manual labor. The Wabash group also will visit local schools. On the third day, they will again visit local schools and take a jungle tour. The following day will include a tour of Panama City, putting together a youth football clinic and practice for the football game. After the gridiron clash, Wabash's group will end its trip by visiting the Panama Canal and hanging out on the beach.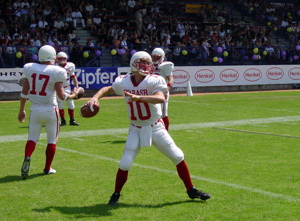 Global Football, the same group that organized the trip to Austria, helped prepare for this year's trip.
Wabash players conducted various fund-raisers, including participating in lift-a-thons, to help fund the trip to Central America. Wabash coaches also helped players formulate letters to various businesses in their hometown asking to help fund the trip.
"I wish we would have been able to take the whole team, but the timing and some other issues just didn't work out," said Wabash offensive lineman Patrick Millikan, a Castle High School graduate. "I have been to Central America once, but I don't remember much about it because I was a little kid. I'm just excited to go and help people out and this gives players who might not get to hang out together during the regular season a chance to bond."
Defensive lineman Josh Gangloff, an East Central graduate, has been to Monterea, Mexico, on a mission trip. He considers Wabash's trip to Panama as another mission trip.
"It has been kind of tough with the monetary situation and having to practice all this week to prepare for the trip, but when this opportunity came up I knew I had to do it," Gangloff said. "This is just a great opportunity to go out and play football and help people."


Matt Wilson is a reporter for the Crawfordsville Journal Review.
In photos:
Lower left: Dustin DeNeal warms up prior to Wabash's game three years ago vs. the Vienna Vikings.