NCATE Accredits Wabash's Teacher Education Program
by Howard W. Hewitt • May 11, 2006

Share:
Wabash College's Teacher Education program has been accredited by the National Council for Accreditation of Teacher Education.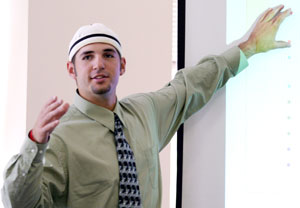 Seven Wabash men will graduate from the Teacher Education program this year. Wabash's report to NCATE reported 24 students in Teacher Education during the 2004-2005 school years.
"The NCATE accreditation is national acknowledgment of the quality of our Teacher Education Program at Wabash College," said Assistant Professor of Teacher Education Michelle Pittard. "It is an extensive process of accountability that shows our program and our students do in fact meet national standards in terms of preparation for becoming teachers."
NCATE is an alliance of more than 30 national professional organizations of the teaching profession and education policy community that are committed to quality teaching. It is recognized by the U.S. Department of Education and the Council on Higher Education Accreditation as a professional accrediting body for teacher preparation.
The program will remain fully accredited nationally over a seven-year cycle, noted Professor Deborah Butler, Director of Teacher Education.
The College described its Teacher Education program in its Institutional Report Card. "The College achieves excellence in teaching and learning within a community built on close and caring relationships among students, faculty, and staff. The mission of the teacher education program at Wabash College, as a deeply embedded part of this liberal education, is to prepare and develop young people by providing them with a broad general education, one that helps them develop the intellectual, social and moral tools to live productive lives within a democratic society. To this end, Wabash teachers are educated within the conceptual framework of the "liberally educated professional."
In photo: Jared Bogan one of seven graduating seniors in Teacher Education.