Students Find Respite on Sugar Creek
by Steve Charles • May 8, 2006

Share:
"I will never think of Indiana as only a domesticated landscape of cornfields," acclaimed author and naturalist Terry Tempest Williams wrote in March after Wabash bookstore manager Mike Bachner '70 showed her Sugar Creek and Shades State Park. "Wildness resides in the heart of America."
Wabash students have tasted that wildness these past few weeks, as Bachner has led a series of kayak floats down Sugar Creek (see Photo Album).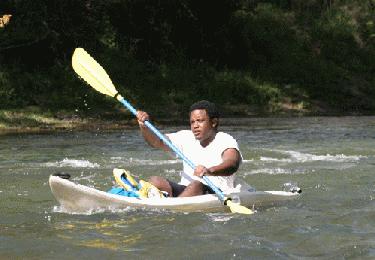 The creek lured Bachner to Crawfordsville and Wabash more than 30 years ago, and he can be found paddling it any season of the year—sun, rain, or snow. His love of the stream is evident as he teaches students a little geology, biology, birdwatching, and some Wabash and Sugar Creek history—an eye-opening introduction to the peace and wonder he finds in this "pocket wilderness."
"The kayak trip down Sugar Creek was amazing, and Mike was a great tour guide," says senior Nikeland Cooper, who has traveled the world—including time in Kuwait as a Marine in Operation Iraqi Freedom—but had never been on an Indiana stream before. "I have traveled to different countries and have seen many things, each with its own unique beauty. Sugar Creek is a beautiful place to find serenity from the rigorous course load at Wabash."
The trek offered several firsts for Bolivian-born Reynaldo Pachec first kayak trip, first eagle and osprey sightings, and first time on Sugar Creek.
"I was amazed with the wildlife and the beauty that we ignore in our everyday living here," Pacheco said. "I only regret that this is my last semester and I am only now discovering these adventurous, healthy experiences that can happen only here."
Junior Andrew Dits grew up in Indiana, but he, too, found respite on the trip.
"I used to try and despise the cornfields," says Dits. "That's funny, because I realize now how much a part of my spirit the land is. Indiana is a part of me. By coming to peace with that, I find more peace by going to it now."
Students get another chance to taste the peace and wildness of Sugar Creek Tuesday, as Bachner leads a group of seniors on a "Final Float" to Deer's Mill. Cooper highly recommends it—from the views of the crinoid beds to the mini-rapids near Davis Bridge.
"I'm glad I had a chance to experience this side of Montgomery County," the Mississippi native says. "It's a trip I'll never forget."

Photos: Nikeland Cooper(top right) paddles through the ripples above Davis Bridge; Dustin Foster '09 enjoys his day on Sugar Creek. For more photos, see Photo Album.