Visiting Students Enjoy Comedian's Take on Wabash
by Jim Amidon • March 13, 2006

Share:
More than 300 high school seniors have arrived on Wabash College's campus for the 113th Honor Scholarship Weekend, one of the nation's oldest running competitive scholarship competitions.
The College welcomed more than 350 high school seniors for the weekend competing for upwards of $3.5 million in scholarships. See photo album from registration and Activities Fair.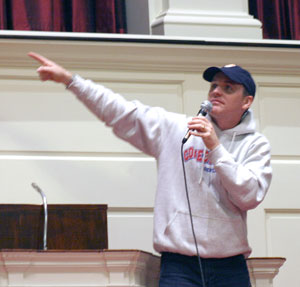 One of the last official parts of the weekend was a performance Saturday night by standup comedian Greg Fitzsimmons. The Comedy Central regular had the 200-300 students roaring for more than hour in the Wabash Chapel.
He is a regular performer on "The Late Show with David Letterman," "The Tonight Show," "Late Night with Conan O'Brien, "Late Late Show with Craig Kilborn," "Jimmy Kimmel Live," and CNN. He's done comedy specials on Comedy Central and has made over 25 appearances on "The Howard Stern Show."
Friday began with registration and students visiting the Activities Fair. Students were able to visit with the Independent Men's Association, athletics, Fraternity Houses, and a wide variety of student-run campus activities. Following tours of campus, the students got an official welcome in the Chapel and then lunch. See photo album from morning welcome and parents lunch.
English Professor Tobey Herzog gave the students a classroom lesson in the liberal arts and Wabash College. Josh Owens, president of the Inter-fraternity Council, talked about fraternity life. Jesse James '08, president of the Independent Men's Association, talked about living in Wabash dorms.
Check out the photo album from Friday night's Honor Scholarship Banquet.
Besides taking tests for scholarship money, the students will visit fraternities and be entertained. One of the weekend highlights will be an 8 p.m. Saturday performance by nationally-known comedian Greg Fitzsimmons.
Students can choose some of the exams, but others are required. And they're not easy. Only about a quarter of the participants will win some type of scholarship.
But its not just about the scholarship money, the weekend gives prospective students to get a real feel for Wabash College life.
The weekend gives the mostly 18-year-old crowd a chance to spend the weekend with us and see if Wabash "feels" right for them. That's why the living units throw open their doors and hope the seniors will take a close look at the fraternities and dorms. By eating the food, spending the night, and hanging out with Wabash men, seniors get a better idea of what life at Wabash is like.
All of the fraternities have activities scheduled, too, so that prospective students can see what social life is like at Wabash. The Phi Delts will have the usual Caveman Bouts boxing match, while other houses will feature pool and poker tournaments, hog roasts, and NCAA basketball on big screen TVs.
In photos:
Upper right: Fitzsimmons has some fun performing in the chapel - an unusual venue for a comedian.