Completely Out of My Comfort Zone
by Steve Charles • February 2, 2006

Share: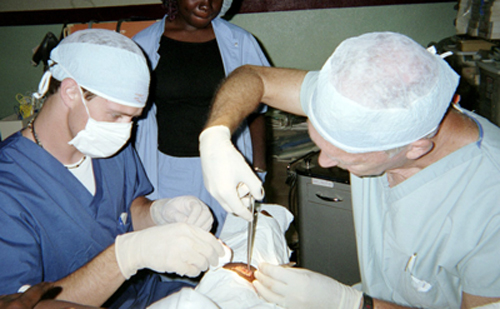 Clay Conner was assisting Dr. Victor Binkley at the medical and surgical clinic in Pere Payen, Haiti, when a woman was rushed into the room.
"The nurse told us that this woman needed oxygen right now, and we tried to revive her," the Wabash senior biology major recalls. "But she died right there on the table. Dr. Binkley said there wasn't much we could do—we didn't have a defibrillator.
"It was the first time I'd seen someone die," Conner says. "Maybe she was unrevivable when she came in, but we'll never know that.
"It just happened so quickly. I walked over and closed her eyes. No one said anything for about 20 minutes. Not a word.
"Finally, Dr. Binkley's wife [Donna], a nurse there, said, 'Kind of puts a damper on the day, doesn't it.' It hit her and she's been doing this work for 20 years!
"I knew this was something I might see when I came to work here, and I'd prepared myself for that. But I kept wondering what that woman had thought about when she woke up that morning. Had she even considered death was a possibility?"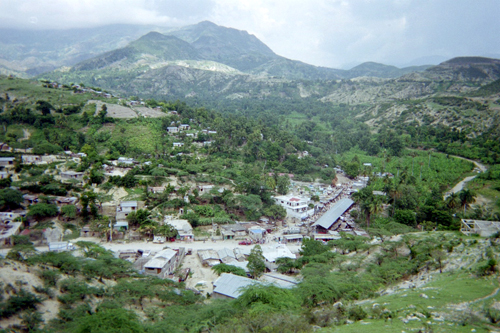 Conner's stint in Pere Payen was his second job last summer. He hopped a plane for Port au Prince less than a week after he finished a research internship in the Molecular Pathology Lab at Roudebush VA Hospital in Indianapolis.
"My dad knew Dr. Binkley and his mission work," Conner says. "He suggested that, since I was trying to decide whether to attend medical school or grad school, I should give this a try."
His experience was more that of a second-year medical student than a summer intern.
"I had more responsibility than I would ever have been given in the States," Conner says. " I was basically a general surgeon, but I just did the skin cutting—Dr. Binkley supervised my every move. When we got into the actual body cavity, he took over."
This wasn't Conner's first foray into missionary medicine. In high school, he traveled to Kenya to work in a hospital there. But he says there was little similarity between the two adventures.
"My work there was more computer based," he says. But up-to-date technology was practically non-existent at the clinic in Haiti. The physician's skill and experience were often the only difference between life and death at Pere Payen.
Conner recalls the afternoon he was preparing to assist in a hysterectomy. For whatever reason, this time he didn't make the first cut.
"Dr. Binkley was about to cut when he paused, lightly palpated the women's abdomen, and said, 'This shouldn't feel like this.'
"So he stopped, we did a pregnancy test, and sure enough, the woman was pregnant," Conner says. "I still don't know why she was there, if she just didn't know she was pregnant, or if she was hoping for an abortion."
While such surprises in the operating room were unusual, the unexpected was the norm in the streets.
"There's no real expectation of normal there," Conner says. "The kind of medical care we expect in the U.S. is an extreme luxury in Haiti. Most of the operations we performed cost no more than $100, but that could be a couple months salary there. The people we operated on were the middle and upper class. The poor just had to live—or die—with their pain, and dying at 20 or 25 years old isn't uncommon."
"Dr. Binkley has been doing this work for decades," Conner says with admiration. "I was there just three weeks. the temperature was in the 90s, and the power would only come on once in a while, and the water would run just every now and then.
"I was completely out of my comfort zone. We had armed guards in our compound. The United Nations was in charge of our area. You'd see fights, hear gunfire all the time.
"On my last day there, a guy smashed open a bottle," Conner recalls. "That's like throwing away money there—you can make money recycling. But he smashed that bottle open and was going to stab a guy with it. Some other men held him back, but he would have killed the man if he could."
Despite such occasionally chaotic conditions, Conner says he enjoyed the work.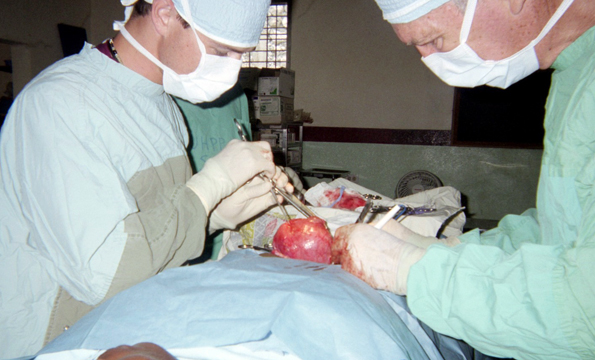 "I was cutting and sewing, and it was a great opportunity. But it was more repetitive than I thought it would be," he says. "The research I did earlier in the summer wasn't like that—there was always something new; you had the sense of advancing science.
"I realized that, if you're a doctor, the immediate stakes are so high," Conner notes. "If you mess up, someone dies, and you're done; but in research, if you mess up, it's just an experiment that didn't work, and you can come back and try a new approach the next day."
"I had been really torn between medical school or research in grad school, and this summer made it clear to me that I want to pursue research," Conner says. "I need to have a larger purpose, make a difference for more people, and believe that I'm having a larger impact on the world."
His three weeks at Pere Payen had a powerful impact on Conner. Although his lack of fluency in Creole put a language barrier between himself and many of the Haitians he met, there are images and people he can't forget.
"There was a little girl, about seven years old, and she'd fallen into a cooking fire when she was younger and had been burned over half of her body," Conner recalls. "When the scar tissue healed over her arm, it healed so tight over two tendons that she had very limited movement of her arm."
Conner was assisting when Binkley began the surgery that eventually gave her much improved mobility.
"I could tell that the little girl was scared, but, fortunately for her, we had this lab assistant, a big, buff guy named Guito. He had so much patience for the little kids. The whole time Dr. Binkley was working on her, Guito would tell her a joke, or touch her face and keep her looking at him, keep her focus off the needles and scalpel. He'd touch her on the nose, tease her, anything to keep her mind off it."
Conner shakes his head as he recalls the scene.
"She never cried as long as she was with Guito," he says. "Later in the week I saw her at the hospital. She was walking beside her dad with her arm in a sling. She had had a very tough life, and she had every reason to complain, to cry, but I never saw her even get upset. She was a fighter."
Conner took more than 60 photos while he was in Pere Payen, but there are none of the little girl, or of Guito. Still, when he talks about his time there, theirs are the stories he can't help telling.
In the same clinic where he first saw a person die, a little girl's courage, and the man who comforted her, are what he remembers best.
Photo, at top and bottom: Clay Conner '06 assists Dr. Victor Binkley in surgery at the medical/surgical clinic in Pere Payen, Haiti.
Middle photo: Outside Pere Payen, Haiti.
Photos courtesy of Clay Conner