Bringing His Research Back to Campus
by Steve Charles • February 1, 2006

Share: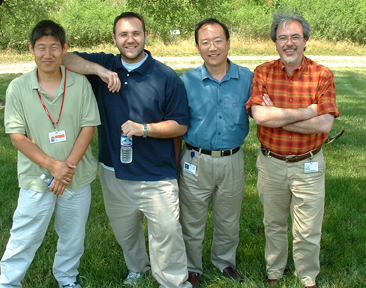 J.J. Anagnostou's parents emigrated to the United States from Greece more than 35 years ago. His father is an expert tailor and entrepreneur and the owner of Broad Ripple Alterations in Broad Ripple, Indiana, and J.J. worked in the family business during his high school years.
"I'm probably one of the few guys around here who can sew-on a button or mend a pair of pants," the easy-going Wabash junior laughs as we get ready to talk about his internship at the Roudebush VA Hospital. He shares fond memories of the annual family return to Greece for summer vacation, the more laid-back life style, enjoyment of family, and reveling in the everyday that's so appealing to him.
When I remind him that medical school will be anything but laid-back, the first-generation college students nods.
"You have to sacrifice to reach that goal, but it's a worthwhile sacrifice," J.J. says. So I ask him "Why medicine?" and, particularly, "Why cancer research?"
"Some day I'd like to go back to Greece and work at my uncle's maternity and urology hospital there, "J.J. says. "And I wanted to do cancer research this summer. I've wanted to do that ever since a friend of mine in high school died of cancer."
Anagnastou spent the summer at Roudebush working with Dr. Liang Cheng's team researching the clonal origins of metastastic mature teratomas—mixed germ cell tumors found in testicular cancer.
Every work day at 4 p.m. after he'd finished his shift at Roudebush, J.J. walked down the street to Indiana University Hospital to work with Dr. Pratik Desai, compiling a database of patients who had had bladder reconstruction surgery.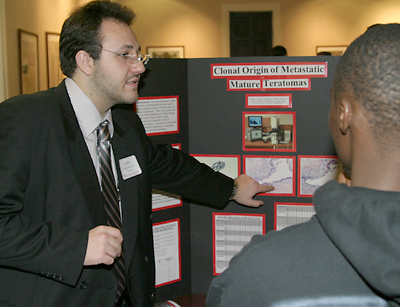 Although his summer research was not done at Wabash, J.J. presented findings from his work at Roudedush during this year's Celebration of Student Research and Creative Work, introducing a new research project to the College's biology and chemistry professors and students.
"After an entire summer of working for Dr. Cheng, he and I both feel that I am now ready to head up a project of my own," J.J. says. "I'm looking forward to doing that in the summer of 2006."
And though he still plans to practice medicine, J.J. says he also wants to stay close to the lab.
"Before medicine was in the textbooks, it was in the laboratory," he says. "I still want to study medicine and urology, but I'd like to do my own research, too. This summer showed me how fundamental it is to keep in touch with the lab."
Top photo: Anagnostou with Dr. Liang Cheng's research team at Roudebush VA Hospital.
Bottom photo: Anagnostou explains his summer research to Wabash senior Ivan Settimba.