Giannini Named New Wabash Soccer Coach
by Jim Amidon • January 5, 2006

Share: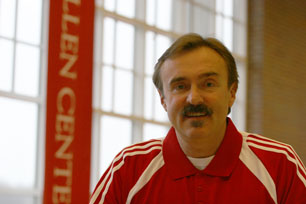 Wabash College Dean of Students Thomas Bambrey has announced that Roberto Giannini is the Little Giants' new head soccer coach. Giannini replaces Director of Athletics Vernon Mummert, who served as interim coach for the 2005 season.
Giannini takes on the Little Giants' program after spending the 2004 and 2005 seasons as the assistant coach of the Valparaiso University men's soccer team. In that capacity, Giannini helped with all of the NCAA Division I program's day-to-day matters, along with assisting with recruiting and on-field instruction.
"Roberto Giannini is an excellent choice for the next Wabash soccer coach with his soccer knowledge and passion for the game," said Mummert, who directed the search for Wabash's new coach. "With his network of club and high school coaching contacts, the Wabash soccer program will be able to attract the top NCAA Division III talent from the state of Indiana and the Midwest."
In 2000, Giannini was named a state coach for Indiana's Olympic Development Program and has served as an instructor for the Indiana Youth Soccer Association Coaching Education Program. In 2004, he was appointed as a Region II ODP staff coach.
Giannini has spent six years as a head coach of the Northwest Indiana United Futbol Club boys program, where he led the U15, U16, U17, U18, and U19 teams to seven consecutive State Cup and two Regional final appearances.
"I consider myself an honest, honorable, experienced, knowledgeable, and personable individual who can make a difference in the lives of student-athletes and the Wabash intercollegiate program as a whole."
A native Italian, Giannini played and coached soccer at different levels in his home country, including youth, national amateur, and professional teams. He also was involved in scouting for the youth programs of pro clubs. He continues to maintain ties with Italy's AC Milan professional team as director for the Midwest Region.
Giannini has received his Italian Soccer Federation Youth and UEFA "B" licenses, and has also earned his USSF "A" and Youth National licenses, along with his NSCAA "Premier" and Goalkeeper I licenses. He has worked at Indiana University's summer camps since 2003.
Giannini did his undergraduate work at the University of Bologna in Italy and completed a master's degree at Valparaiso University.
The Wabash College soccer team competes in the North Coast Athletic Conference and NCAA Division III.