Mark Easley '90 Builds Family Wine Business in Indianapolis
by Howard W. Hewitt • January 3, 2006

Share:
Mark Easley '90 is creating a growing family business using his Wabash College critical thinking skills and on the strength of grape varietals frequently derided by wine purists.
Easley, a Wabash history major, took over his family's Indianapolis Easley Winery when his father passed away in 1997. His father, a retired Indianapolis attorney, was one of the real pioneers of today's booming Indiana wine business.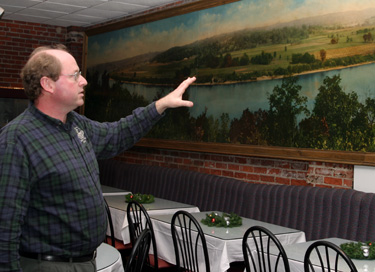 Jack and Joan Easley looked at the winery as their retirement, Mark explained. "It wasn't a viable business. He didn't have to make a living. It wasn't profitable. When he passed away we had a great family crisis the year following; it was, 'Do we go on or sell?'"
Mark and his wife Meredith decided to carry on the family tradition begun in 1974. "We sat down for a year and chronologically laid out a program of where we wanted to go," Easley recalled. "In that first two years we spent a great deal of time traveling to wineries around the United State and the world to find out what this business was about, what worked and didn't work, and more important what direction we wanted to go."
The end result of a long story is a diverse line of more than 20 wines, and a couple of interesting niche markets, that is now headed by the popularity of Reggae Red and Reggae White wine.
Easley hesitated to call his parents wine snobs, but admitted 'purists' might be a good label. They had always refused to plant traditional vines which grow easily in Indiana. They had concentrated on traditional Cabernet Sauvignon, Chardonnay, and French hybrids. The American grapes Niagara, Concord, Catawba, and Delaware are what purists refer to as grapes grown for jelly.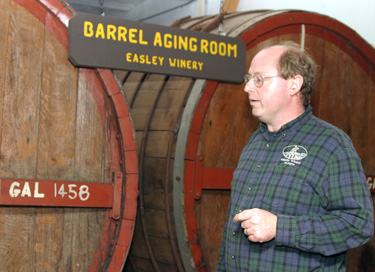 "But a large segment of the population grew up with Welch's and they like that flavor," Easley said. "They like that taste so we decided to plant those varietals."
Easley's father had taken lease on property along the Ohio River switchbacks after successfully changing Indiana's Prohibition laws and getting the Indiana Farm Winery law passed in the early 70s.
The family has 56 acres on long-term lease at that site, but currently has just 17 acres in vineyard. Easley has a total of 85 acres in lease — mostly in Indiana, but also Michigan and California.
After deciding to plant the American grapes on his property, Easley went to work and experimented with 50 or 60 blends to come up with his Reggae Red. He credits the often criticized Sutter Home's White Zinfandel for igniting the United State's taste for sweet wines and wine in general.
"White Zinfandel skyrocketed to the top," Easley said. "And the wine industry quickly said maybe Americans would come around to wine if we made something they actually liked, instead of something we liked."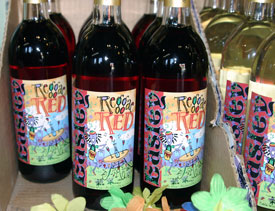 That was Easley's inspiration for Reggae Red. "People say, 'Wine is stuffy; I'm intimidated by it; I may make the wrong selection for dinner; I go into the wine aisle and spend a half hour there trying to find the right one but I can go in the beer aisle and in five minutes be out of there and no one is going to care.'"
So Mark knew the wine had to be good for introductory wine drinkers and it had to be fun. Meredith brought a background which included working for the Indy 500 Festival, Indy Parks, and the Red Cross. She handles all the marketing and public relations.
"Her attitude was, 'Hey, it's a party in a bottle and you're going to have a good time.'"
A colorful label was added and Reggae Red took off. The wine, which can be found in most Indiana supermarkets, became Easley's best seller in just one year. He sold more Reggae Red last year than the rest of his wine portfolio combined.
But the remainder of his portfolio has some interesting niches. A small Indiana winery has to look for its market. "You can't compete with multi-million dollar, Fortune 500 companies like Gallo, Mondavi, and Sutter Home. You begin to look at niche marketing and what markets are underserved that you can go after."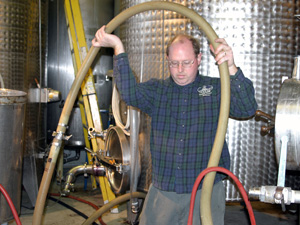 That led Easley into sacramental wine. "We sell primarily to Catholic churches, but also Episcopal and Lutheran churches. It's been a wonderful segment that gets us into every small town in Indiana."
As a matter of fact, Easley can boast he's the largest producer and seller of sacramental wines in the state.
Another niche is providing market growth. Easley started making Mead, or Honey wines, for re-enactors and found there was a large ethnic market for the product. "There are parts of Africa and some parts of Asia where honey wine has a strong tradition," Easley explained.
The most popular product for that market segment has become Ethiopian Tej wine. Tej is a traditional Ethiopian herb. "We have the largest Ethiopian chain of restaurants (five) in Manhattan. We have a big ethnic clientele in Detroit. We're currently in New York, North Carolina, and starting in Ohio and Florida at the first of the year with the sweet red wines and this honey wine."
When Mark and Meredith decided to take over the business they wanted to diversify. They have a small banquet room. Mark carries a large supply of home-winemaking and beer-making supplies and equipment. They give tours of their larger-than-expected winery. The retail business is really starting to take off and they still have their traditional, award-winning, oak-aged wines. The winery has 15 employees.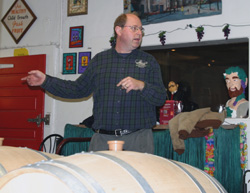 Mark cherishes being able to have his wife, three daughters and his mother involved in the business. And, he credits Wabash for the diverse liberal arts education he finds himself using every day.
"What I really credit Wabash for is paper writing," he explained. "It's that ability on a weekly basis to write three or four papers of three-to-10 pages every single week, week in and week out. That makes you a critical thinker. That critical thinking has helped me in building a wine business.
"We start out in 4,000, 5,000, 6,000-gallon tanks when the grapes come in. Then we begin breaking them down in 2,000-gallon batches, 1,000-gallon batches, and 500-gallon batches. And we're blending 10 percent of this and 20 percent of that. That's a critical thought."
And despite original plans to go to Purdue and study food science en route to the family winery, he had just the right mix at Wabash to run a multi-faceted business.
"The three roommates I spent the most time with were all biology and chemistry majors and I wanted nothing to do with that. Ironically, to this day, I probably do more chemistry on a daily basis then they do in their careers in medicine and the environment. I'm in the lab doing testing for alcohol, Ph, all sorts of things."
He frequently reflects on the challenges of the unique business he always wanted to pursue.
"It's a conscious decision," he said. "You're never going to make a lot of money in the wine business but you're going to have a hell of a lifestyle. It's extremely capital intensive. You're working on a 6- to 8-year time line from the time you plant a grape until the product comes out. But you attract a very good clientele, typically a college-educated consumer who is here to have a good time and enjoys life."
Hewitt is Wabash College's Director of New Media/Web Editor.
In photos:
Top left: A large mural of Spencer County, along the Ohio River, hangs in the Easley Winery Banquet Room. The Easley family has a long-term lease for property hosting some of their vineyards there.
Upper right: Easley pauses in front of old oak barrels once used for aging wine. Visitors often find those more fascinating, Easley said, than today's modern stainless steel technology.
Center left: The winery has a large display of Easley's full product line, including Reggae Red.
Center right: Mark is the winemaker and finds himself cleaning stainless steel tanks along side his other workers.
Lower left: Mark chats with one of his workers during a busy afternoon. The oak barrels in the foreground are used to age his top-line chardonnay and cabernet sauvignon.