2005 Football Banquet Draws Crowd
by Tom Runge • December 12, 2005

Share: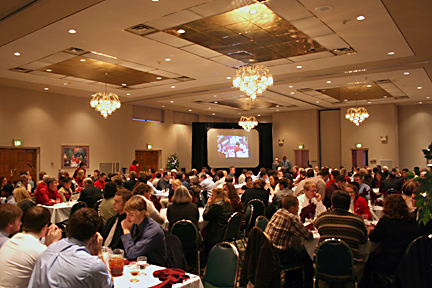 Well over 300 Wabash alumni, parents, friends, and football family members packed into the Ballroom of the Crawfordsville Holiday Inn last night to celebrate another great season of Wabash football.

Head coach Chris Creighton and Sports Information Director Brent Harris took turns guiding the evening's celebration. Coach Creighton thanked everyone for helping make the program such a success. In addition to the highlight film and awards, the coach took time to thank President and Mrs. Andy Ford for their guidance and support, Dean Tom Bambrey for his superb leadership of all the athletics programs, and departing trainer Jack Mansfield for all he has meant to a couple of decades of Wabash athletes. He also praised Wabash alumnus Tim Morrison '88 for his steadfast support of the program.
Coach Creighton also thanked three sets of senior parents who organized support for the program throughout the season: Karen and Steve Selby (parents of Aaron #38), Laura and Rick Roop (Brandon #10), and Heather and Doug Fields (Hunter #51).
The Top Awards for the evening went to:
- "Torch Bearer" Award – Chris Ogden '06
- "Team" Award – Brandon Roop '06
- "Unfinished Business" Award – Russ Harbaugh '06
- Most Valuable Player Award – Russ Harbaugh '06
For photographs, click here.