Festival of Music, Readings Warms December Night
by Steve Charles • December 8, 2005

Share:
The voices of the 45-man-strong Wabash College Glee Club, directed by Professor Richard Bowen, filled the Wabash Chapel with carols from six centuries Wednesday night, warming a crowd from the College and Crawfordsville communities that braved frigid temperatures to attend the 37th Annual Christmas Festival of Music and Readings.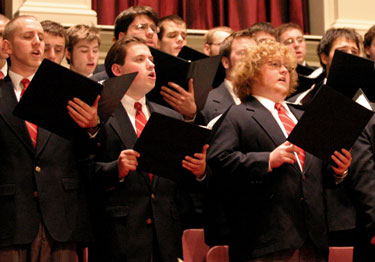 The festival, based on a traditional English service and initiated at Wabash by the late Eric Dean, featured Advent and Christmas scriptures read by Wabash faculty, staff, and students.
The program was opened by the Wabash String Ensemble, with violinists Andrew McKone '07 and Dan Gillespie '08; Eponymous 3 with harpsichordist Diane Norton, cellist Matthew Bentley, and Amanda Ingram on recorder; and the Wabash Brass Ensemble, directed by Assistant Professor of Music Peter Hulen. College voice instructor Kevin Trager, accompanied by pianist Cheryl Everett, performed a beautiful solo of Hugo Wolf's "Nun wandre, Maria," and the Glee Club, with soloist Howard Bailey '05, sang a stirring rendition of William Dawson's "Mary Had a Baby," followed by the 11th-century plainchant "Of the Father's Love Begotten," with the ensemble positioned throughout the Chapel and sounding like a choir in a medieval cathedral. (See photo album)

Professor of Philosophy and Religion Bill Placher '70 led a concluding prayer for "soldiers far from home, for those with tough jobs to do, for the homeless, and for those without work."