Wabash students have just one week to submit their application for the 6th Celebration of Student Research, Scholarship, and Creative Work.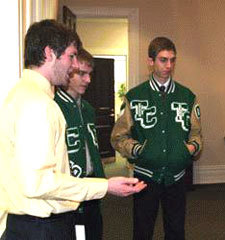 Students annually present a poster, talk, exhibit, reading, a brief performance, a summary of a performance, or some other unique format. This year's celebration will be Friday, January 27.
"You might share a project from your fall semester, something you did last spring, or a collaborative research project you did over the summer," Todd McDorman, chairman of the Celebration committee, said in an all-campus e-mail.
Last year 59 different students made 56 presentations. Afternoon classes are cancelled on the day of the Celebration each year to allow as many students, faculty and staff as possible to attend this unique event.
Students can learn more about participating in this year's celebration by clicking here.
Greg Fulmer talks about his chemistry project with prospective students visiting campus Jan. 28.