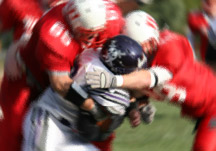 It's over.
The storybook season for the 2005 Wabash College football team came to an abrupt, almost surreal end on Saturday when Capital University held on late to secure a 14-11 victory over the Little Giants before a loud and raucous home crowd.
It was surreal because nobody associated with the program this year thought the team would lose — could lose. It was that kind of a year: a season of heroes who made this autumn one to remember.
I tried to tell some of the players after the game that the 11-1 season, second best all-time at Wabash, had brought the Wabash family together and provided a spirited rallying point each and every week. I told them about the impact that they had on thousands of Wabash alumni and friends; how they would be remembered for their tenacity and courage.
The players didn't want to hear it. They didn't want to believe that the season was over. Those men whose faces weren't streaked with tears were staring blankly at the scoreboard, the turf, or the home grandstand. I must have heard "I can't believe it's over" 25 times in the moments immediately following the game.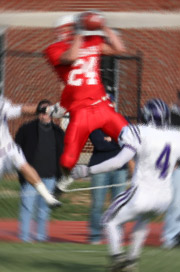 And it was a legitimate statement. While most realists (or pessimists) always believe that losing is possible, if not inevitable, this team of Little Giants truly believed — from week one in August until there was 00:00 left on the scoreboard — that they would win a national championship. You could not make them believe that they would lose. Ever.
That was never more apparent than in the fourth quarter of Saturday's game. Trailing 14-0 and offensively stymied for most of the game, quarterback Russ Harbaugh, his offensive line, and his talented corps of receivers got something going. The Wabash defense played championship football all day, holding a powerful Crusader team a couple hundred yards below their season average.
Now, though, in the fourth quarter, Wabash had to rally offensively. Harbaugh got the team into field goal position, where Chad Finley booted a field goal to cut the lead to 11 points. The defense dug in and held Capital on its next possession, then intercepted a pass after that. Harbaugh connected with Mike Russell and Eric Summers to draw close, then Kyle Piazza jumped over the top for Wabash's only touchdown. Russell's high-flying two-point conversion catch made it 14-11 with 5:28 remaining.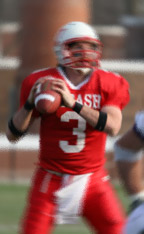 Nobody doubted that the defense would hold Capital again and give Harbaugh the chance to win the game. With 1:53 remaining in the game, Wabash got the ball back on its 31-yard line.
Even the most cynical fans suddenly realized that a miracle was unfolding. Three plays later Harbaugh had his team on the Capital 10-yard line.
Then it got surreal. The most efficient, productive quarterback ever to suit up for Wabash — a guy who threw only four interceptions in 47 quarters — was picked off by Capital's Matt Coleman in the endzone. The pass had been destined for Harbaugh's roommate, Eric Summers, but Coleman wrestled it away and Capital ran out the clock.
The official's call on that play will be the stuff of storytellers 20 years from now. But the game ended as if the Little Giants had been rudely awakened from a beautiful four-month long dream.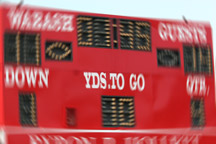 It really was a dream-like season; it was a drama that had everything — a hero (Harbaugh); a gallant, oft-injured knight (Aaron Selby); a dynamic athlete (Eric Summers); a hard-hitting little brother figure (Josh Foster); a name never to forget (Don Juan Brown); a cartoon character with great character (Jake Koeneman); a quiet leader (Tim Parker); and a humble all-star (Adrian Pynenberg). And eighty or more guys who were well equipped to step into the spotlight to advance the team's goals, one week at a time.
In a private moment immediately after the game, Coach Chris Creighton prayed for the senior members of the team that they might be men of impact wherever life leads them. Based on the impact they had on all of us this year, it's a safe bet that they will have a powerful impact on the communities in which they live and the lives they touch.
Godspeed Little Giants Thanks for the joy you brought us and for the memories you have etched in our minds.