Philly Association Welcomes Religion Department
by Tom Runge • November 21, 2005

Share: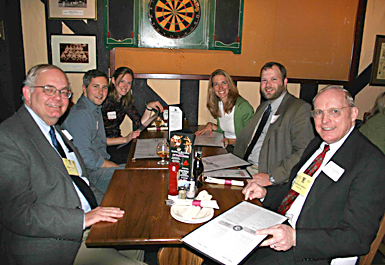 The Philadelphia Association of Wabash Men welcomed several Wabash faculty members to the city of brotherly love Saturday, November 19, 2005. It was fitting in this historic city that the group gathered at the Elephant and Castle Pub!
The Wabash travelers included members of the Religion Department – Bill Placher '70, David Blix '70, Steve Webb '83, and Jonathan Baer - and Paul Myhre from the Wabash Center for Teaching and Learning in Theology and Religion. Leading the entire team was Raymond Williams H'68, Dean of the College. The Wabash team was in Philadelphia for a national conference.
David Scott '64, who divides his time between business interests in Philadelphia and Crawfordsville, organized the evening. Many thanks, David!
For photos of the get-together, click here.