Wabash swimmers are off to a 3-3 dual meet start to its season, but with a big group of talented freshmen the expectations are high for year-end results.
The theme for this year's swim team, though, is youth.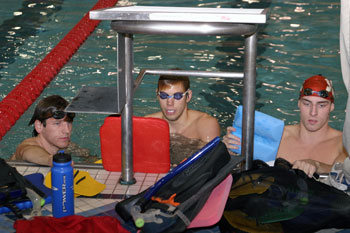 "This is one of our strongest freshman classes I've brought in since I been here, if not the strongest," coach Peter Casares said. "As far as depth and actual high school accolades, we have three young men in Jordan Blackwell (Veedersburg, IN/Crawfordsville) and Jordan Extine (Muncie, IN/Yorktown), Brent Graham (Ft. Wayne, IN/Highland) who were high school All-Americans. Those three also came off teams ranked in the Top-10 in their states."
But the influx of talent doesn't stop with those three. "There are a whole slew of other guys who've come in and been real players. Right now we're at a point in the season we look around in dual meets and we see a bunch of freshmen scoring points in addition to our upperclassmen, so it's going to take the entire season to develop our identity. I think our best meets and best swims will come in January and February this year."
The upperclassmen feel an additional burden of leadership with all the young faces.
"We have six upper classmen so there are a lot of leadership roles placed on senior shoulders this year," said Kyle Weaver '07 (Portland, IN/Jay County) "So far I think we're handling it well with three morning practices a week along with afternoon practices. I think the whole team is making more of a commitment and I think the upper classmen are now starting to perform in meets."
Senior captain Zach Manker (Grand Rapids, MI/Northview) said the seniors felt the pressure before the freshmen ever arrived on campus.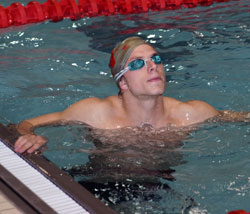 "With 15 freshman that are so good there is a change in leadership from having to perform in each meet and leading the team in points to having to be good role models," Manker said.
"There were a lot of guys this summer who were scared of all these freshmen coming in; so they swam and prepared over the summer when in year's past they haven't."
Even with a small upper class representation and all the young talent, Casares' approach remains the same.
"One of the grounding philosophies in this program is to teach these guys to coach themselves," the fourth-year coach said. "Explain why we're doing what we're doing, how it's going to affect them, and what it is they need to know to help themselves."
"When you have three seniors and three juniors there is a lot of teaching going on. Maybe last year we didn't have to do as much because we had the upper classmen leading the way but this year there is more people on deck and I have to explain things. But we're still teaching our athletes why as well as how."
The coach and his veteran swimmers all agree on the season-ending goals, and that's to close the gap on NCAC powerhouses Kenyon and Denison. They would also like to send athletes on to Nationals.
"Our goal is to get over 1,000 points as a team in the conference meet," Manker said. "I think that's a good goal, getting as close to Denison and Kenyon as possible. There is a lot of pressure there but I think they (freshmen) will be able to handle it."
Weaver noted the Little Giants have been getting closer to the two powerhouse programs. "I think we'll continue to do that. But we're going to have to have some leadership roles from juniors and seniors because our freshmen have never seen a meet like conference before."
Casares is counting on that leadership. He also singles out sophomore Michael Belanger '08 (Crawfordsville, IN/Crawfordsville) as a solid regular contributor.
"We have some holes we didn't expect," Casares said, noting a couple of transfers and athletes who elected to drop off the team. "We have some spots we need to do better in. But if we are patient and decide right now we may not be great, but by the end of the year we will be solid in those events, we should see a big improvement in how we perform at dual meets and at the conference and championship level."
Hewitt is Wabash College's Director of New Media/Web Editor.
In photos:
Top right: Swimmers Jon Harris, Trayton White and Jordan Blackwell reach for equipment during practice.
Lower left: Manker looks up at time clock during drills.