Wamidan to Present Fall Concert on Wednesday Evening
by Karen Handley • November 14, 2005

Share: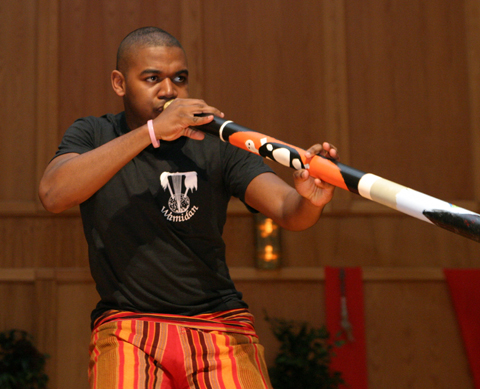 Wabash College's Music Department invites you to FASCOB (Fall, Semester, Concert, Bang) as Wamidan presents its first concert of the season at 8 p.m. Wednesday, November 16 in Salter Concert Hall in the Fine Arts Center.
In its sixth season, Wamidan was founded in the fall of 2000 with an initial focus on East African music and dance traditions and has since expanded its programs and presentations to cover other music and dance cultural regions of the globe.
Some of the featured performances will be the Didgeridoo (aboriginal musical instruments); Tabla (Bangladeshi drums); Mbuutu and nankasa Ganda drums; Acholi gourd and Larakaraka polyrhythmic music; an Acholi courtship dance; a Gishu initiation dance; a large mixed ensemble of lyres, fiddles, and xylophones from the Ganda culture; a large bow harp ensemble of adungu instruments from the Alur culture; and a French solo song.
The concert is free and open to the public.