Harbaugh Named NCAC Offensive Player of the Week
by Brent Harris • November 6, 2005

Share: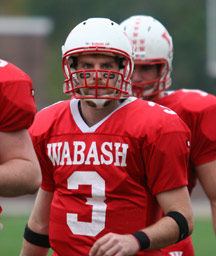 Senior quarterback Russ Harbaugh (Evansville, IN/Bosse) has been named the North Coast Athletic Conference Offensive Football Player of the Week for the period ending November 5.
The 6-1, 189-pounder threw for 313 yards and three TDs to lead the Little Giant to the 2005 NCAC football title and an automatic berth in the NCAA Division III football tournament with a 52-0 win over Denison University. He completed 19-of-20 (.950) pass attempts to break the Wabash and NCAC single game completion percentage records.
Harbaugh is third on the single-season passing list with 2,786 yards. He has a completion percentage for the year of 71.2.
Wabash is 9-0 for the season, and finished with a perfect
7-0 record in NCAC play. The Little Giants play DePauw University in the 112th Monon Bell Classic this Saturday.