LAFAYETTE, Ind. - As many as 13 Wabash alumni and one Wabash student gathered Oct. 29 in Lafayette to work for the local Habitat for Humanity sponsored by Unity Hospital. The event marked the inaugural Wabash Day for the National Association of Wabash Men.
Wabash Day offered a unique opportunity for Alumni and students to gather while contributing to their communities at the same time. Up to 20 associations across the country participated in the first-ever event. (See photo album of Lafayette work.)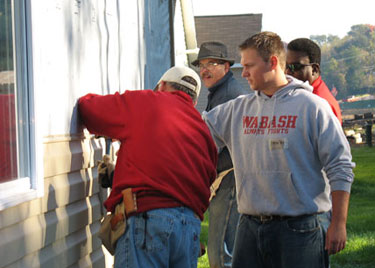 "It is a neat idea. It is not that big of a deal to give up a Saturday to help serve your community," Andrew Weintraut '07 said of his participation. Weintraut is a native of Lafayette, a rhetoric major and member of the Beta Theta Phi fraternity.
Wabash men spent the day putting up siding and preparing for drywall installation for the Habitat for Humanity house. The project is scheduled to be finished in December then a needing and deserving family can move in.
"It's a great day," Lou Fenoglio '81 said. "We have great weather. We have a bunch of great guys and a great cause to come together for."
Not just Wabash Alumni and students gathered together for Wabash Day. Parents and representatives from other organizations were in attendance. Dick Schrader, father of Doug Schrader '86, was one of the many who joined and picked up a hammer to help a great cause. Russ Schneider, a member of Americorps and '05 graduate of Purdue University who is now working in conjunction with Habitat for Humanity, was also lending a helping hand.
"We always appreciate all the help we can get on these projects," Schneider said. "Hopefully after all the help we have and all the work we are getting done we can get past the halfway point towards the completion of this project.
"It is really a great thing the Wabash College is doing here and I hope it continues in the future."
Sexton is a Wabash College junior and English major.
In photo: Weintraut holds a piece of siding in place while Fenoglio does some measuring.