Little Giants Visit Hall of Fame Enroute to Allegheny
by Brent Harris • October 28, 2005

Share:
CANTON, Ohio - What's one way to break up Friday's eight-hour ride from Crawfordsville to Meadville, Pennsylvania? Easy, stop at the Pro Football Hall of Fame in Canton, Ohio.
Wabash College coaches, staff and players spent time Friday evening throwing passes to NFL Pro Football Hall of Famer Lynn Swann and future Hall of Famer Jerry Rice (well, not the actual players but cutouts of the players in an interactive passing booth). The stop gave the players more than a chance to stretch their legs. The Little Giants will put their 7-0 record on the line at Allegheny College. (See photo album from Hall of Fame visit.)
For many of the kids, it was a chance to see some of the legends they'd only heard of during Sunday football broadcasts.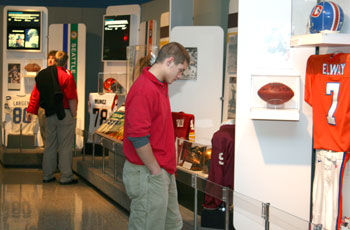 Freshman Matt Kraft stepped into the main Hall of Fame area where a bust of each inducted member is presented and asked equipment manager Tom Perkins when Jim Brown played.
"I can't come to the Hall and not see the bust of one of the greatest players of all time," said Kraft, who spent several minutes in front of the lifelike sculpture. Assistant Coach Tom Meeker sought out the Tom Landry bust, his namesake.
The Hall staff held the final showing of the museum's historical film. Several Little Giants wandered through the building, taking photos of the many displays showing the history of the National Football League.
"There's a letter from the American Football League challenging the NFL to a 'Super Game,'" Perkins pointed out to a group of players in a room that paid tribute to Super Bowl memories. The NFL accepted the challenge of course, paving the way for the showdown that's become one of America's biggest sporting days.
The final stop of the afternoon contained the football passing booth, where head coach and former Kenyon quarterback Chris Creighton joined several players in an impromptu passing contest. Other players surrounded trivia screens, video booths, and a John Madden NFL Challenge video game controller.
After several games of interactive trivia (ask junior lineman Jeff Williams which NFL player became the first to score 2,000 points in a career), video football, and souvenir purchases in the gift shop, the players boarded the two buses to depart for dinner and the remaining two-hour drive to Meadville, Pa.
Harris is Wabash College's Sports Information Director. Photos by Web Editor Howard Hewitt
In Photos:
Above: Kyle Piazza looks at a Hall of Fame display about some of the NFL's greatest players.
On Homepage: Little Giants in front of the Pro Football Hall of Fame at Canton, Ohio.