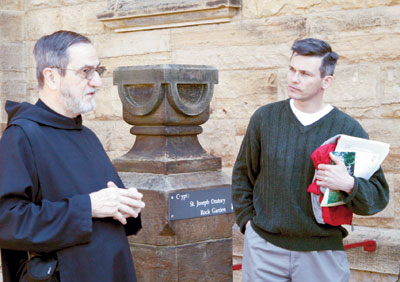 While classmates jetted to Paris, Prague, Brussels and other spots around the world, a group of Wabash freshmen were at first a bit chagrined to be spending their spring break immersion trip in Southern Indiana.
German Professor Greg Redding '88 (above, right) led his freshman tutorial class to Jasper, Evansville, and the southwestern corner of the state to explore German immigration patterns. After a day of travel and a museum stop, the students had yet to fully embrace the trip.
But on the second day, the College van unloaded at Saint Meinrad Archabbey in St. Meinrad, Indiana, about an hour east of Evansville.
"Now this is beginning to look like an immersion trip," said freshman Julio Enriquez, with the huge Romanesque Church and grounds in full view.
From that moment on, students quizzed tour guide Brother Maurus with a new sense of enthusiasm. Later that same day, Sister Mary Longtime gave the men a tour of the Sisters of St. Benedict Monastery of the Immaculate Conception, set atop a hill overlooking the small town of Ferdinand. Students asked the sister, who had been at the Archabbey 48 years, about her life serving the Monastery.
The "German-American Experience" was the first immersion trip funded by a new grant from Lilly Endowment Inc. to encourage students to consider Indiana as an attractive environment in which to live and pursue career choices.
Even Hoosiers were surprised by what they found.
"I have a different appreciation for the town and for what it has to offer," said Andrew Deig '08 after the group toured his hometown of Evansville, Indiana.
And native German and Wabash language intern Andreas Mankel caught a glimpse of his homeland:
"I was quite surprised to see the big monasteries, which looked pretty German. And the Schnitzelbank and the Hofbrauhaus restaurants were almost surreal —to have those here seemed more German than Germany!"
—Howard Hewitt