Wabash Streaks to 7-0 with Win Over Wittenberg
by Jim Amidon • October 22, 2005

Share: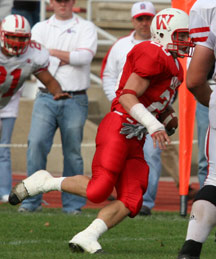 Russ Harbaugh threw for 271 yards and two touchdowns, leading the Wabash College football team (7-0; 5-0 NCAC) to a 26-20 come-from-behind victory over Wittenberg University (3-4; 3-1). Wabash's win, coupled with Kenyon's loss to Ohio Wesleyan, leaves Wabash in sole possession of first place in the North Coast Athletic Conference.
Click here for photographs from the game.
"We control our own destiny with three games left," said Harbaugh, who connected with receivers Ray Green and Eric Summers on scoring strikes. "It's up to us at this point."
Wabash coach Chris Creighton predicted the game would be a war and it was. After Wittenberg jumped out to a 10-0 first-quarter lead, the two teams went back and forth until Brandon Roop gave Wabash its final go ahead touchdown on a two-yard dive with 4:59 to play in the in the third quarter. The winning drive was set up when linebacker Tim Parker pressured Tiger quarterback Ryan Holmes, whose pass was intercepted by Josh Foster, who went 22 yards with the return.
"They sent their tailback, Murray, out on what we call a running back wheel," said Foster. "Somebody (Parker) got some pressure on the quarterback and he sort of just threw it up there and I went and got it."
Fellow linebacker Aaron Selby made 10 tackles in his return to starting form after breaking his foot earlier in the year. Selby thought the interception was clearly the turning point in the game.
"That's huge in a game where not many turnovers are made," said Selby. "We get one interception, and it changes the total outlook of the game. We were tied at that point and then we go ahead and we don't look back."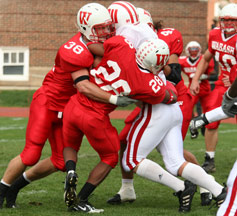 Wabash's defense had been shredded throughout the first half and well into the third quarter prior to the interception. Holmes was routinely finding running back Tristan Murray out of the backfield on screen passes. Murray finished with four catches for 61 yards, including a 50-yard screen pass that set up Wittenberg's first touchdown. He also added 101 yards on 27 carries.
Holmes staked the guests to a 10-0 lead when he handed off to Jered Glover on a wide receiver reverse. Glover plunged over from eight yards out and Wabash had its back to the wall. But Wabash was able to get back in the game on a pair of 67-yard scoring drives, while the Little Giant defense twice allowed only field goals on long Wittenberg drives.
Brandon Roop's two-yard touchdown run 16 seconds before halftime gave Wabash its first lead of the game, 14-13.
The lead, however, was short lived. Wittenberg made it 20-14 when Glover took a short screen pass 65 yards for pay dirt.
But on its next possession, Harbaugh marched Wabash 68 yards on seven plays, hitting his roommate, wide receiver Eric Summers, on a 37-yard bomb that tied the score when Wabash missed its extra point.
After Foster's interception, Wabash's defense tightened significantly. The Tigers managed only 53 yards on 19 plays after Wabash took the lead on Roop's touchdown run.
"When Wabash and Wittenberg play, it's a war every year," said Coach Creighton after the game. "They have so much pride and tradition and they are always well coached. I was proud of the way we bucked up and got it done."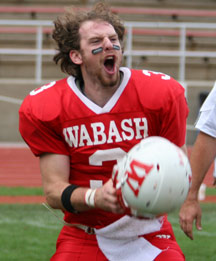 Even with significant pressure, Harbaugh had another excellent performance, hitting 22-of-33 passes for 271 yards without throwing an interception. He hit seven different receivers, but Summers was easily his favorite target. Summers, who had 17 career catches against Wittenberg, added eight more for 118 yards. Mike Russell had four catches for 44 yards, while Green had 49 yards on three catches, including his nifty 23-yard touchdown grab.

Roop had a solid day rushing the ball, finishing with 60 yards and two touchdowns on 17 workmanlike carries. Chris Ogden added 23 yards and Don Juan Brown chipped in nine to provide balance to Wabash's offense.

Wabash's linebackers, beaten early in the game, played like monsters in the second half. After Wittenberg scored on Glover's 65-yard screen pass, the Tigers netted only 79 yards over the last 23 minutes of play.

Sophomore Adrian Pynenberg led the way with 12 tackles, while Selby had 10, including one for a loss and a pass breakup. Parker had nine tackles and two quarterback hurries, one of which led to Foster's interception.

Wabash travels to Allegheny next weekend for a 12 noon (Crawfordsville time) matchup. The Little Giants final home conference game is November 5 when Denison comes to town on Senior Day.

Photographs by Jim Amidon:

Top right: Josh Foster returns an interception 22 yards to set up Wabash's go-ahead touchdown.

Middle left: Thomas Bell (28), Aaron Selby (38), and Tim Parker (41) combine for a big hit.

Bottom right: Russ Harbaugh celebrates the victory, his second in three games vs. Wittenberg.




Results: Wabash 26, Wittenberg 20 Game Stats