Students Share Stories, Photos of Mississippi Trip
by Howard W. Hewitt • October 19, 2005

Share:
Wabash students have returned to campus after their four-day trip to Mississippi to assist residents of Moss Point and Pass Christian recovering from Hurricane Katrina.
A few mechanical problems were the only reported glitches in the group's plans. The rented bus had difficulties which caused the Pass Christian group to return to campus at 5:30 a.m. Monday morning.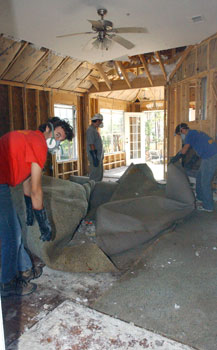 Already the group's impact is being felt and appreciated.
"My wife and I met several of your students who were down here helping our town to recover from Katrina," wrote Roy and Kathleen Lang, of Moss Point. "I would like to say that they were some of the nicest young people we have met. Their whole demeanor was one of being courteous and well mannered to us. Please tell the person responsible for planning their trip down to our little city in Mississippi that we sent our heartfelt thanks for them being among us this past weekend, and for the great work that they did for senior citizens in our city."
A television station serving the Biloxi, Gulfport, and Pascagoula area did a short story featuring Pascagoula native Andy Brimm '09.
"People were dropping their plans to come down here, dropping going home to see their families and dropping everything just to come and help out their fellow students is something amazing I think, pretty unique," Brimm told WLOX television.
Several of the students are writing about their experience helping with the cleanup. We will be posting their stories as soon as submitted. Some of those essays will also be featured in this week's Bachelor. Click in the 'related story' box above to read the students' account of the trip. Be sure to check back as others are posted.
Junior Brock Johnson, a Bachelor and BOP photographer, shot photos with the Pass Christian group. Here are two photo albums of his pictures: Album 1 – Album 2. Several students on the Moss Point trip took photos: Moss Point Album. A second photo album features more Moss Point photos.