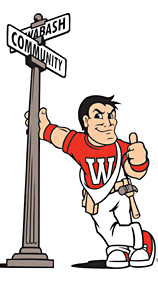 Jon Pactor is one of the most loyal, dedicated alumni volunteers Wabash College has ever known. The 1971 graduate serves as class agent for his class; he's an elected member of the Board of Directors of the National Association of Wabash Men; he's received awards for his excellence as class agent and alumni admissions volunteer. There isn't much he hasn't done on behalf of his alma mater.
Jon is also one of the funniest, kookiest people I know. So when he approached six months ago about an idea he had to unite all Wabash alumni in an activity to highlight Wabash's mission, I wasn't sure if he was kidding me or if he was serious.
He was serious.
And so on October 29, 20-25 regional alumni associations will reach out to their communities as part of the first ever WABASH Day. Pactor dreamed up the acronym, to Wabash Alumni Benefiting And Serving Humanity.
See, Jon wanted alumni (and students) to think seriously about the last aspect of Wabash's four-line mission statement. The entire statement is: "Wabash College educates men to think critically, act responsibly, lead effectively, and live humanely." It was the "live humanely" aspect that Jon imagined alumni could actively exemplify on one day, all across the country.
It was typical Jon Pactor, too. He rolled up his sleeves and got to work. First, he bounced the idea off me and Tom Runge in the alumni office. He then took the plan to the NAWM Board of Directors, who enthusiastically endorsed the idea and offered a resolution to make it official.
Then came the hard part — lining up alumni volunteer leaders across the country in regional centers were the term "association" is defined quite differently. In many cases, participation in WABASH Day is the most formal activity a regional association has ever mounted. And it's a great way to start.
Each regional volunteer chose a project, then began working email and phones to get the word out. On my end, we designed a logo to mark the occasion and produced a number of stories on the College's website.
Gradually, things have begun to fall into place.
In Grand Rapids, Michigan, alumni will work with the GR Police Department to clean and repair parts of the Camp O'Malley youth camp. Two Wabash alums, Mark Ostapowicz '92 and Keith Hefner '94, both members of the GRPD, came up with the idea.
In Cincinnati, alumni Steve King '97 and Mike Baker '00 have organized an effort to work on the Holly Hill Children's Shelter, a place where abused and neglected girls can go to seek shelter.
In Denver, Dr. John Panozzo '89 has organized a grounds improvement project at the Karlis Family Center, which is a domestic violence shelter. The center was founded about 10 years ago by former Denver Brocos' kicker Rich Karlis, and it operates much like our own Family Crisis Shelter here in Montgomery County.
At least four different sets of alumni will be working in the greater Indianapolis area. Projects range from working with landscaping work with Frank Hagaman's Partners in Housing Development Corp., to placing March of Dimes ribbons throughout downtown Indianapolis. Other Indianapolis alumni will be working with projects at The Villages, an agency that assists abused children, and at Thrifty Threads, the consignment store associated with the domestic violence shelter, the Julian Center.
In Washington, D.C., alumni will work with the Special Olympics, and facilitate the Greater Washington American Heart Association three-mile Heart Walk.
The list goes on and on. Closer to home, Larry Frye, an honorary alumnus of Wabash, is spearheading efforts in Montgomery County. If your church, school, or non-profit agency could use some help on Saturday, October 29, give me a call at 361-6364 or call Larry at 361-6327. We'll see if we can get some bodies out to help you complete a project.
It should not have surprised me that Jon came up with such an unusual, creative way to live out Wabash's mission, not should it have surprised me that he's seen the effort through to fruition. In Jon's case, it's just another example of an alumnus thinking critically, acting responsibly, leading effectively, and, of course, living humanely.
Amidon is Wabash College's Director of Public Affairs. He writes this weekly column for the Crawfordsville Journal Review.