Brown's Latest Discovery Renews "Hobbit" Debate
by Howard Hewitt • October 11, 2005

Share:
Dr. Peter Brown visited Wabash College Sept. 19 to discuss his role in the discovery of a small species of humans dubbed the "Hobbit people."
A new study published Oct. 10 details a jaw bone and other artifacts discovered in the same Flores cave where the initial find occurred. The publication has again stirred a debate among scientists and experts in the field. Read the news coverage here.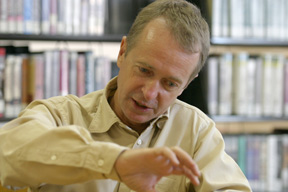 Brown, a Professor of Palaeoanthropology at the University of New England in Australia stressed the uniqueness of this find. Brown and his team of researchers found remains of the so-called "Hobbit people," also known as Homo floresiensis, on the remote Indonesian island of Flores. The race of humans, which probably became extinct about 12-13,000 years ago because of a wide-scale volcanic eruption, was no more than about 3-4 feet tall.
The skeletal remains showed marked differences from human fossils of the same time period. The brain cavity's volume was only 460 cc, making it significantly smaller than humans. Furthermore, the facial bone structure lacked a human chin and possessed a much thicker bones.
Despite the differences, Brown stressed the extraordinary findings unique to the excavation site.
The excavation team discovered several man-made stone tools that, barring the presence of humans, which lead Brown and his colleagues to believe the Hobbit people were responsible for the tool's construction.
Brown chose his words carefully during an interview but said most of his colleagues from around the world called the discovery the most important of the past 50-100 years.