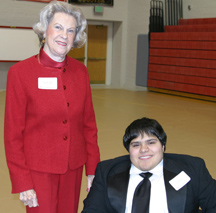 "Your generous donation provides me with an example of the kind of works that a Wabash Man should be a part of and how I should give back to Wabash for all that it has given to me." J.P. Patterson '08
"It is important to support causes you believe in, because if you don't, who will?" Greg Jania '93
"Giving back to the institution that influenced the good in your life is essential. It is through philanthropy that we help to insure the future." Betty F. Olsen, related to 26 graduates of Wabash College
Each fall, Coordinator of Donor Relations Marilyn Smith gears up for an important annual communication between students and benefactors of named scholarships at Wabash College. The Financial Aid Office matches named scholarships and students, and then the students write thank you letters to the benefactors who support Wabash through this scholarship aid.
The funds that help Wabash offer merit- or need-based aid to over 90% of its students come in part from alumni who appreciate their Wabash experience and how it changed their lives, and want to share it with others. Family and friends often establish named scholarships in honor or memory of friends and loved ones.
Students write unique thank you notes, telling the donors about themselves. The letters vary in length, but they are all sincere in their appreciation for the support that helps make it possible for them to attend Wabash. The letters are touching, and some bring tears to the eyes of the donors. They include thoughts that indicate the students truly recognize the importance of what they receive and already look to the time when they will share in return.
For example:
"I only hope I'll be able to give back to the College just as your family has."
"Thank you for supporting me, but thank you even more for supporting the school that turns boys into men, Wabash College."
"I look forward to the day when I may repay the gift which you have bestowed to another."
"I just wanted to take this time to thank you personally for all that your scholarship has done not only for me, but also for those before me."
"I have decided that no matter where my career path takes me, I want to make an impact on the lives of our future generations, similar to the impact you have had on me with this generous scholarship." "
There are literally dozens of other similar examples.
Benefactors of named scholarships lend their support with dollars, but what else can they share? Last year Smith sent a sent a survey to scholarship benefactors asking what they want students to know about philanthropy and giving. The responses were as touching as the students' were:
"Just be sure to help some future Wabash student when you have the opportunity."
"We believe we have a responsibility to give back to those who have helped us."
"This scholarship is our way of perpetuating ourselves and what we believe in."
"You get a wonderful feeling in knowing that you are enabling fine young men to enjoy the Wabash experience that would not be possible otherwise."
So, another fall begins another year of young future alumni thanking those who help them be at Wabash now —and plants the seed, as one student said, "…to repay your munificence to those who come after me."
In the photographs:
Homepage: David and Betty Givens pose with one of their scholarship recipients, Reynaldo Pacheco '06.
Above right: Ginny Hays poses with Joshua Dirig '07, whose scholarship honors the legacy of the late Will Hays, Jr.