Wabash students, faculty and staff turned out to "eat local" Thursday as part of Bon Appetit's "Eat Local Challenge.
Thursday's lunch was prepared completely from ingredients from within a 150-mile radius of Crawfordsville.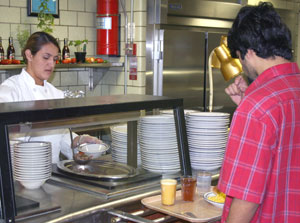 Though many students had not sampled lamb previously, many tried the stew which proved to be a big hit with faculty and staff members.
Thursday's Lunch Menu:
Lamb stew with fresh potatoes, onions, tomatoes and herbs.
Squash Bake Medley with spaghetti squash, Butternut squash and roasted onions.
Egg Drop Soup
Hamburgers made from fresh local beef
Watermelon Berry blend with honey glaze
Salad bar items from local farmers and farmers markets
The meat for Thursday's lunch came from Miller's Stock Farm, Thorntown. Produce and Eggs were purchased from Cooley Farms, Lafayette. Herbs were grown by Bloomers Greenhouse, West Point. Cream and dairy products were provided by Trackers Point, Zionsville. And the honey was produced by Tom Eisele, Westfield.
"It's just to create awareness about supporting your local farmers," said Wabash's Bon Appetit manager Mary Jo Arthur. "Bon Appetit really believes in farm to fork. Locally grown products cook better; they taste better and usually have fewer or no chemicals.
"It's something we try to do all the time but tomorrow is a special thing.


According to the Worldwatch Institute, in the United States, food now travels between, 500 and 2,500 miles from farm to table, as much as 25 percent farther than two decades ago according to a Bon Appetit press release. That shipping and trucking does incredible damage to the environment in the form of global warming and air pollution. Eating locally also helps reduce the immense mount of non-renewable resources wasted in transporting food. Fuel conservation isn't only about driving less: it's also about buying things that don't travel half-way across the globe.
In addition, local farmers, who use more sustainable growing practices, act as stewards of the land. By buying from local growers you help support sustainable farming practices that nourish and replenish the local land rather than stripping it. You have the power to ensure that the food you buy is produced in a manner that steers away from pesticides, hormones, and antibiotics.
Besides the health and environmental benefits there is the economic benefit of supporting local farmers, Bon Appetit suggests.
"The family farm is dying and when the family farm dies so too does our agricultural heritage. However, if you eat locally then you are simultaneously investing in your own community and helping to preserve local farmers and artisans ensuring their traditions continue. If you buy local, you are helping to ensure that we can savor these authentic flavors in the future."
In photo: Bon Appetit's Sugey Hernandez serves up lamb stew to a Wabash student.