Wabash College sophomore Gary Simkus had a summer of experiences which would take most people three or four years to complete. He returned to his family's native roots, played international basketball, and had experience with a professional soccer franchise.
Simkus, a Little Giant soccer and basketball player from Highland, IN played international basketball in Lithuania and was a participant in the Chicago Fire's developmental soccer league.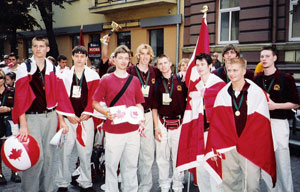 The 6-foot, 6-inch Simkus was contacted by a Toronto, Canada basketball team looking for players of Lithuanian descent in early summer. He joined the team for a tournament in Detroit. The team's coach scanned college rosters looking for last names that ended in "us" or "is."
"When they found out I was young enough to play on their 20-and-under team, they asked me if I wanted to go to Lithuania," Simkus said.
Simkus' grandfather had emigrated from Lithuania but never returned to his native land. It was a chance for Simkus to learn about his heritage since he had never traveled to Europe.
"I got some videos about the culture and, of course, my grandpa always used to talk about it. It was cool to see the stuff he talked about. We drove past his hometown."
Simkus was in Lithuania for the country's national games. There were international teams made up of players of Lithuanian descent. His Canadian team won the bronze medal in the three-day tournament, and he then had about two weeks to go sight-seeing.
"Basketball is their main sport and it was really great to play in those old gyms," said Simkus, who averaged nearly six points and just over three rebounds per game as a freshmen on the Wabash basketball team. "We then went sight-seeing and traveled with an under-12 team. The tournament was in the capital, Vilnius, but we made it around the country and actually swam in the Baltic Sea."
Simkus' 20th birthday celebration was one he'll never forget, July 1. "We spent that day at the Canadian Embassy because that's their Independence Day. We got to dance to Lithuanian polka music but you had to watch out for the old ladies, who'd pinch your butt," he recalled with a laugh.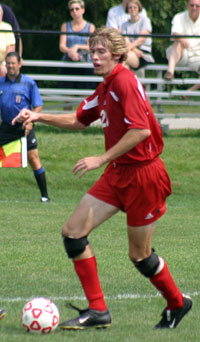 He had a little trouble getting used to the greasy food — lots of meat and potatoes — but enjoyed the folk art, castles, and Lithuanian scenery.
Before and after the late June to early July trip, he participated in an amateur developmental soccer league sponsored by the Chicago Fire. "It was great competition. It's always been my dream to play top-level soccer and hopefully be a pro some day."
He also runs a personal training business teaching youngsters soccer in the Highland area. Simkus hopes to play soccer again next summer and expects to rejoin the Canadian basketball team when they travel to Chicago for a tournament.
The math major, who will minor in economics and Spanish, has enjoyed his dual-sport career at Wabash but admits he may not continue both all four years. He was recruited to Wabash to play basketball and liked the school. He had Division I soccer offers but got a better financial aid package to come to Wabash, where he enjoys the opportunity to play both sports.
Hewitt is Wabash College Director of New Media/Web Editor.
In photos:
On student homepage: The Canadian team prepare to march through the streets of the Lithuanian capital. Simkus is on far left.
Above: Simkus in center of photo holding trophy for team's third-place finish.
Lower right: Simkus in action for the Little Giant Soccer team.