NAWM Welcomes Back Wabash Men
by Jim Amidon • August 29, 2005

Share: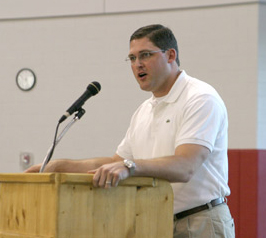 Nearly 40 members of the National Association of Wabash Men gathered Sunday evening to host 200 returning Wabash students for the first ever Welcome Back Dinner.
See the photo album by clicking here.
NAWM Board President Jim Davlin '85 served as master of ceremonies for the event, which was held in Knowling Fieldhouse.
"All of you gathered here tonight are now members of the National Association of Wabash Men," said Davlin. "The NAWM is the official alumni association of Wabash, and because you have all completed at least one year at Wabash, I welcome you to the NAWM."
The event was organized by the NAWM Board and the Alumni and Parent Relations Office as a way to better communicate to current students the benefits of networking with alumni, as well as the responsibilities of becoming a Wabash alumnus.
"Becoming a member of the NAWM is more than just a chance to network with alumni," said keynote speaker David Kogan '95. "The NAWM is a community, and I hope each of you understands how you can benefit from actively participating in this community."
Kogan talked about how he was recruited to Wabash by a Zionsville alumnus, and how alumni had played a critical role in his professional development.
The event was attended by about 40 Wabash alumni, including Trustees Larry Hutchison, Daryl Johnson, and Ted Grossnickle. At least one alumnus sat at every table of returning Wabash students.
Pictured above is keynote speaker David Kogan '95.