If you're going to establish a football recruiting pipeline, Indianapolis Roncalli High School might be a darn good partner.
Wabash's fall roster includes four Roncalli graduates; three are freshmen who played key roles for last year's Indiana 4A state champs. The Roncalli Rebels have won three consecutive titles.
Nick Marshall '08 is a Little Giant H-back who helped recruit this year's three freshmen. Quarterback Andrew Hasty, running back Scott Lutgring and defensive back Chad Peterman are on the fall roster.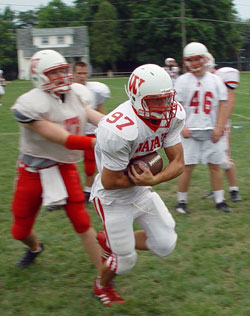 Lutgring, a 5-11, 174 pounder, may have had the most interesting senior season. He was a second-string tail back behind Tim Sergi when the season started and didn't carry the ball at all as a junior. He was mainly a special teams player on the 2003 state champs. Sergi went down in the season's fourth game but Lutgring stepped in to rush for more than 1,800 yards. Sergi is a scholarship player at Indiana University now.
"I had heard that Wabash had a great tradition just like Roncalli," Lutgring said. "I wanted to keep going from where I left off in high school with a family atmosphere.
"Academics played a big part in it too. It really was both (academics and football) coming together made Wabash a pretty easy choice."
Roncalli's third straight championship was led by its senior class. The Rebels can boast 11 starters from last season on college rosters this fall. The most notable was Jason Werner, Indiana Mr. Football, who looks to get playing time at Purdue. Patrick Kuntz was heavily recruited by Notre Dame where he is playing. Along with Sergi and walk-on teammates at Purdue and Indiana, Roncalli boasts five players at Division I schools from last year's roster.
"We got a Roncalli player for first time last year in Nick Marshall and we got three this year," Coach Chris Creighton said. "Those guys not only have won but our programs are similar, so it's always good to recruit guys who want and expect what you have and what you expect. It's just a good marriage."
The three players on the Little Giant roster played huge roles in Roncalli's success as well. Quarterback Hasty, 6-3, 192 pounds, thinks Roncalli is a great place to prepare for a school like Wabash.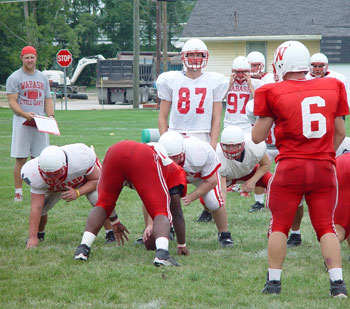 "I think Roncalli has prepared me academically for a school like Wabash," said Hasty, who threw touchdown passes of 46 and 28 yards plus a one-yard sneak in the state title game. "It doesn't make it easier or harder, but Roncalli gave me mental preparedness that I think is really going to help me out."
Roncalli players get a lot of attention from college recruiters because of their academic and athletic prowess.
"For what I wanted for my future, I thought Wabash could probably prepare me the best," Hasty said. "I liked the staff and the way Wabash handles academics and being responsible as a man – those are the major reason I came here."
Hasty is thinking about a double major in biology and political science. He's contemplating law or medical school for graduate work.
Academics and the Wabash reputation sold defensive back Peterman.
"As far as the athletics, it seemed like a family atmosphere," said the 5-11, 169-pound defensive back. "It's sort of like Roncalli and I wanted to go somewhere that had that sort of thing and Wabash best exemplified that for me."
Peterman also lined up as a wide receiver in high school, but will concentrate on defense now. He plans to major in political science and/or economics.
Hewitt is Wabash College's Director of New Media/Web Editor.
In Photos:
Top left: Lutgring carries the ball in a practice this week.
Lower right: Hasty is concentrating on learning the Little Giant offense.