Brandon Roop's summer was spent in an investment office, working as an intern. It's something he plans to pursue after graduating from Wabash later this year. He worked in the office of his father, Rick. But before you think Brandon was worried about getting too far away from home, consider the spring semester of his junior.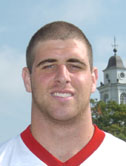 Roop spent that time in Spain, immersed in the language and culture.
"I became a part of another family," said Roop. "They took me in as one of their own kids. It was a life-changing moment. I felt like a baby bird being pushed from the nest. I had to learn to fly --- to take care of myself."
"But that's what Wabash prepares you to do. I came to Wabash to learn how to learn. I've learned to become my own man."
A portion of being his own man includes being a member of the Little Giants' football team and of the Wabash Christian Men Society. As a starting H-back last season, he was third on the team in receptions with 18 and sixth in receiving yards with 160.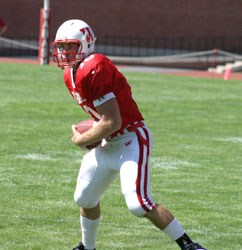 Roop credits his teammates and classmates with helping him stay up to date with the events back on campus.
"A lot of the guys emailed me regularly. I really appreciated it. I felt like I was right there with them."
The weeks in Spain were something that Roop never dreamed would happen when he graduated from Castle High School.
"I'm so thankful to Wabash for giving me the opportunity to live in Spain for the semester. It reinforced the reasons I chose to come to school here. I've learned to be a gentleman and that I will succeed when I graduate."