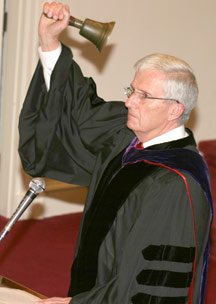 Wabash College President Andrew T. Ford rang in the Class of 2009 on a warm and humid Saturday afternoon. Ford welcomed the 251 freshmen to the Wabash community and invited them to "save civilization."
Click to see a photo album from Freshman Saturday.
"The world needs you; civilization depends on you," he said, looking to the balcony of the Pioneer Chapel where the freshmen were seated. "That may sound far-fetched, but it's not. We as a nation have to get it right, and we're looking to you to do it... What this world needs is leaders to make peace and make life better."
Dean of Admissions Steve Klein served as emcee for the Ringing In ceremony. In giving a brief profile of the class, he noted that the 251 students included 40 legacies; 44 men who scored better than 700 on their math SATs; 34 who scored 700 or better on their verbal SATs; and 12 were either valedictorian or salutatorian of their high school class. The freshmen had an combined average GPA of 3.60.
President Ford acknowledged the accomplishments of the men when they were in high school, but quickly noted that none of that matters now.
"For perhaps the first time in your life, you're on your own," he said. "The slate is wiped clean. This is as close in life as you get to a second chance. Don't mess it up!"
President Ford also explained to parents and family members the College's singular code of conduct, the Gentleman's Rule: "The student will conduct himself, at all times, both on and off the campus, as a gentleman and responsible citizen." Then he said to the freshmen, "Sounds pretty good, doesn't it?
"But believe me when I say that when you're on your own, honesty and integrity are harder than ever before. That's when you put freedom and responsibility together."
Jon Pactor '71, representing the National Association of Wabash Men, explained to the freshmen the diversity of interests of the alumni, and how such a relatively small group of men have accomplished so much. He said, "We alumni know that if you put in the effort... you will be men of impact in what ever you choose to do in life."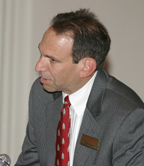 Dean Klein noted that 31 freshmen attended Boy's State and 13 were Eagle Scouts. Other students he singled out, but did not name included, a NASA Aerospace Scholar; a radio game show host; several small business owners, including an eBay "Power Seller" of paint ball supplies and a web designer; a student who bicycled from Chicago to San Francisco; an Irish dance champion; an award-winning sports journalist; and two different students who climbed two different mountains with 14,000-foot peaks.
President Ford challenged the Class of 2009 to put their hearts and souls into their education at Wabash and to look out for one another. "Look to your left and look to your right, and make sure all three of you are there at graduation. We're in this together."
Before ringing in the class with the original school bell used by Wabash's first professor, Caleb Mills, Ford gave the freshmen four pieces of advice:
1) "Don't hold back; get involved now. Don't just take it in this first year;
2) "Plan on doing something you've never done before, ideally something that you are afraid to do;
3) "Ask questions... right up to the point of being a nuisance. Don't be a passive recipient of your education; you must engage while you are here; and
4) "Make a list that says, 'This is how I will know this has been a successful year'... We want your imagination to be the only limit placed on your education."
Before ringing the traditional Caleb Mills bell, Ford paused, then looked into the balconies where the Class of 2009 was seated, and said, "You can show a skeptical world that young men can live and work together with honesty and integrity."