Wabash College fraternity and residence hall leaders spent Wednesday discussing responsibilities and leadership within their living units.
The first Wabash Housing and Education Leaders Partnership (HELP) was held on campus with College staff, alumni, and students.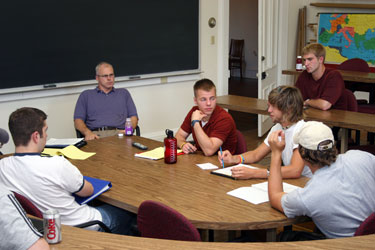 "The intent is there in the name or acronym; it's HELP," Dean of Students Tom Bambrey said. "We are increasingly thinking about how to be more direct with students about their roles in the Wabash culture and their training as leaders."
Fraternity officers, chairmen, and residence hall leaders met in small groups throughout the day to discuss common problems and learn from each other.
"In our college you're the people who make the most difference," President Andy Ford told the group. "You are the people who will affect whether people have a positive experience and leave here happy, especially the freshmen. Our administration and staff are here to help you do that."
The students were engaged in discussion on topics ranging from pledgeship to social activities, common problems and available campus resources.
"The reason we're having this today is because we had such an outstanding first semester last year," Associate Dean of Students Mike Raters said. Last school year there was not a single freshman who transferred out of Wabash College in the first semester. "It's not like we can improve on that, but this year the level of expectation will be the same."
All aspects of College life were covered trying to give the student leaders the necessary tools and resources to make good leadership decisions.
"I thought it would be a little more meeting-oriented, drumming stuff into our heads," said Dennis Frazee, an RA in College Hall. "It was actually more informative than I expected.
"It refreshed my mind or introduced me to new situations that other people have faced that I might face. It gave me a manner in which I could handle those situations easier than if I was just facing them myself."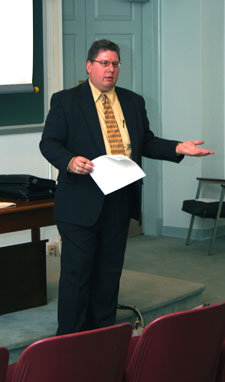 The topics ranged from how to deal with upset parents to alcohol use. Greg Miller '83, a Crawfordsville attorney, led a session on social life and legal responsibility. He reviewed Indiana laws as they pertain to alcohol, underage drinking, and liability.
He strongly emphasized fraternities should use a guest list for parties, that no alcohol ever be purchased with fraternity or pooled money, an absolute ban on drinking and driving, no common source of alcohol, and even establishing a risk committee.
Miller reflected on his college days, noting rush is always a dry period and that any activity involving pledges should always be dry. He warned fraternities that Indiana law enforcement is using more field agents to infiltrate such parties and many of those agents are young women.
The information was a two-way street for the students and Wabash staff.
"The students got a lot of information and they shared with us a lot of information and concerns," Raters said. "The term for this is partnership and I think that's what we started here today."
Josh Owens '07, president of Beta Theta Pi, said establishing a partnership with his fraternity leadership colleagues made the session valuable.
"I think its just getting together with all the other leaders of the houses," Owens said. "It's a great chance to talk about what's coming up the first semester. Everything works a little smoother when the guys can know each other. If there is a problem between us and another house, I now can call them up. It helps to build that type of relationship early in the year instead of doing it halfway through a semester."
Bambrey and Raters are anxious to evaluate the day-long session and get student feedback.
"Our plan is for this to be the first of a series of events with students," Bambrey explained. "There is some potential for doing this every semester. This is the first stage and a trial.
"The goal is when we think about our relationship with students and talking with them about the important aspects of their lives in a fraternity or dorm, we want to help strengthen their leadership skills. It's all in that word HELP."
Hewitt is Wabash College Director of New Media/Web Editor.
In photos:
Top right and student homepage: Student leaders talk about common problems.
Lower left: Miller '83 discusses Indiana law on alcohol.
On homepage: Raters opens the morning session.