Indiana's Building Blocks
by Thant Htun • August 11, 2005

Share:
Indiana is not just a crossroad of America, but it also has been the state that provides "Nation's building stones." Indiana limestone, also known as Salem limestone, is used to imprint first words of the Constitution of the United States. You will probably be surprised to find out that 35 of the 50 state capitol buildings are made of Indiana Limestone. Empire State building, the tallest building in New York City and National Cathedral in Washington DC are also constructed of Indiana limestone.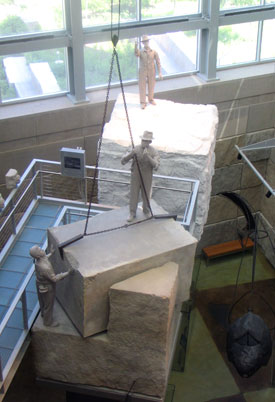 Famous for its durability, strength and beauty, Indiana limestone was chosen to rebuild the damaged parts of Pentagon after September 11 attack. It has been a long time that Indiana takes part in building the United States.
Indiana limestone is a rock primarily formed of calcium carbonate. The limestone was deposited over millions of years as marine fossils decomposed at the bottom of a shallow inland sea which covered most of the present-day Midwest. Besides its uniformity of composition, texture, and structure, Indiana limestone is perfect to use in large buildings for it is strong enough to hold extremely heavy weight.
Presently, nearly 80 percent of the dimension limestone used in the U.S.A. is quarried in the state of Indiana. The area of limestone production is known as the "Stone Belt" which extends northward to Putnam County and southward through Owen, Monroe, Lawrence, Washington, Orange, and Crawford Counties. Traditionally kept as family business, Indiana limestone industry generates $26 million annually in revenue.
In photo:
Indiana's State Museum has this large limestone art piece depicting the state's history with the building material.
Htun '07 is from Myanmar.