If it wasn't for his three dogs in his new Crawfordsville home, Scott Crawford might be feeling a little lonely as he starts his new job as Wabash College's career services director.
Crawford assumed duties Aug. 8 without an assistant director and with long-time secretary Toni McKinney on vacation. So the affable Crawford has been spending his initial days on campus finding his way around and exploring the somewhat empty Schroeder Career Center.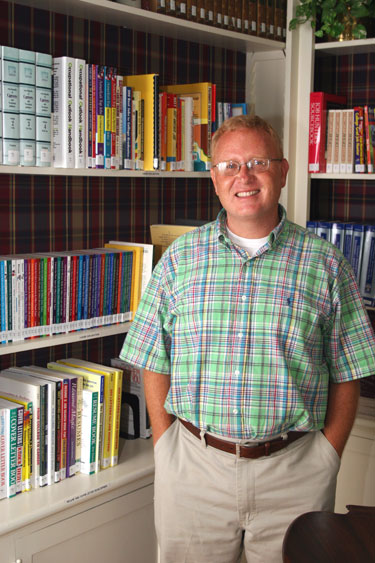 Crawford was named the center's director in early July. He comes to Wabash from Johns Hopkins University, where he served for more than three years as director of career services for the School of Professional Studies in Business and Education. At Johns Hopkins, Crawford managed the recruiting and employer relations activities of the office and oversaw the day-to-day operations of the center and its staff.
"This is a small and unique school," Crawford said, noting what attracted him to the job. "Wabash has a niche. I like the liberal arts and working with liberal arts students. I think that it's an interesting challenge. The whole world is a possibility with liberal arts students. And I think that's a really good atmosphere for career services."
Dean of Students Tom Bambrey is pleased to have Crawford on board. "He brings a strong background, including work in a liberal-arts setting, and I believe our students will find him enthusiastic in his approach to assisting them with their career planning. Scott will reach out to students as we strengthen and extend our efforts in the Schroeder Career Center."
Crawford explained his personal approach to career guidance. "I like to take students from day one all the way to alumni status and beyond," he said. "This is the kind of place you can do that. This school is small enough you can track those students and really get to know them."
He will do that by diving into the college community and its activities.
"You get involved in the life of the school," he said. "You get to know the students. You get involved with clubs, organizations and fraternities – whatever you work with. You really work with each student as an individual student.
"When a student walks in I'm talking to him, not just a religion major. I'm talking to him about his particular thing. That's really important from a career services perspective, because that's going to make that one particular student come back when he knows you're really looking out for him."
And working at Wabash makes the personal approach even easier. "I've worked at five schools and four have been large ones. This is a luxury because I'll get to know the individual student. So if an employer calls and says I need someone to do this particular job or a graduate school calls and says we're looking for this kind of student, I can say I have a list of five right here for you.
"Then I call that one student and say, 'Guess what, these people are looking for you.' "
Crawford hopes building the one-on-one relationships will make the center stronger.
"I think the main thing is to make the center accessible where students really want to be a part of it. I want it to be where I do not have to go out and knock on doors, which I'll do, but where students are coming to us because we have a reputation that this is the place they need to be."
The Arkansas native knows he has a big helping hand already with the strength of Wabash's alumni relations. He said most alums care about their alma mater's reputation today as much or more than when they graduated themselves. "They have a vested interest in what happens to that one particular student we talked about today. It's very important to them to see Wabash student succeed and start good careers. So it's nice coming to a place with a strong, active alumni base."
Crawford's career services experience has been at a variety of both public and private institutions. Prior to Johns Hopkins, Crawford was the associate director of the Graduate Career Center for the School of Business and Public Management at the George Washington University in Washington DC. He also served as the director of career services at Adrian College in Michigan, and as the assistant director of career services at Wichita State University in Kansas. He began his career as a career counselor at Valdosta State University in Georgia.
Crawford earned his bachelor's degree from the University of Arkansas in business administration and human resources. He earned his master's degree in higher education administration from Arkansas, where he had a concentration in student personnel.
Hewitt is Wabash College's Director of New Media/Web Editor.